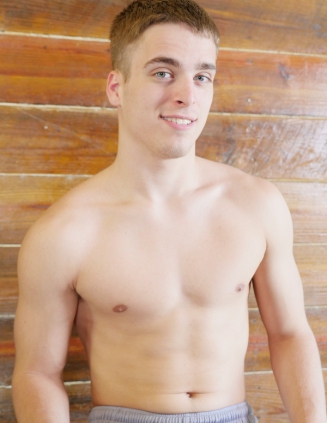 Our newbie Brady Bennett isn't totally inexperienced in the world of porn, in fact, this web-cam pro is used to people watching him get off and it gets him hard knowing he's making them cum. So he's got no problem stripping down and modeling his fine ass and body for us, cock out and back arched as he shows off his stuff.
But as sexy as Brady is, we want to see some action! He takes a seat on starts touching himself, massaging his balls as he yanks on his big dick, focusing on the tip as he gets harder and harder with each stroke. He leans back and closes his eyes, enjoying the feeling of his hand sliding over his slick shaft, up and down, massaging the head and tweaking his nipple as his muscles tighten across his body.
He starts masturbating a little faster now, holding his balls as he grabs his dick and works it, squeezing his eyes shut as he gets closer to release. Finally, with a few more good strokes, he shoots his load and cums everywhere. This was certainly a successful solo scene…we'll see what he can do with another dude!