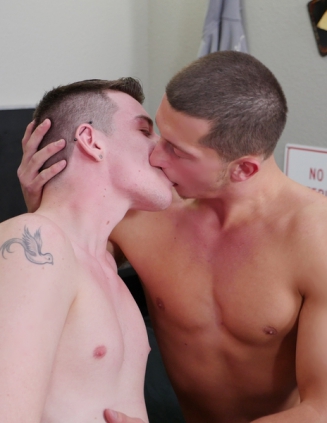 Lucky Drake Tyler skips over the oral-only scene and gets right to the fucking, and his partner Ryan Fields is lucky too because Drake is in the mood to bottom! In fact, Drake loves anal play and can hardly wait to get started as he locks lips with Ryan, kissing his way down to his nipple and then his cock and sucking on that dick.
Drake's expert mouth gets Ryan hard in no time, and then it's Ryan's turn to give head as he takes Drake's prick and makes is stand up…then gives him an extra special treat as Ryan rims Drake's hole and makes him cry out in pleasure. This guy wasn't kidding when he said he loves things up his ass, he sits right on Ryan's hard cock and bounces up and down, riding that dick hard as his own meat flops around with each bounce.
He bends over and lets Ryan take him hard, loving every minute of that ass-pounding as Ryan gets deep inside of him, then they take it back over to the bed and Drake lets Ryan have his way with him as these boys fuck hard until Drake erupts everywhere, shooting his load into the air! Ryan cums between Drake's ass, licks up his own jizz and feeds it to Drake, who willingly takes that cum in his mouth!