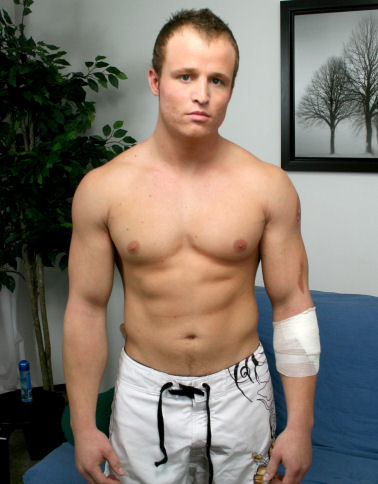 Kent was down in south Florida on a vacation with his girlfriend to escape, the cold weather he was already having in Colorado where he was from. He had some nasty bruises on his arm, from an encounter with a wood burning fireplace at home. I decided that I would try and shoot him from one main angle, so that the members wouldn't have to look at the burns. Kent and his girlfriend came down here for a four day vacation, and he told her that he was going for a jog as an excuse for meeting with me. That was the one reason on why we started the shoot with his shirt off. He looks like his spends some good part of his time in the gym working out, because his body was in great shape, and he has a lot of muscle. I explained how this was a test shoot to see how well he would do and then from there we might be able to do more shoots with him. I explained where everything was, and how things were going to go. He started to strip out of his clothes starting with his shoes, and I noticed that he had good looking feet.

Sitting on the edge of the couch naked, he started to stroke his cock with some lube. Which took him no time to get, but what was nice was that he seemed to be very comfortable right from the start and his on camera experience was showing. He would spit in his hand and jerk his dick. After a while he sat back to take his time in jerking off, and we got into how many times he jerks off a day. He does like to stroke it whenever he gets a chance. Kent likes to spicy up his jerking techniques by using two hands, lube and no lube, and different motions. He liked to show off his bodybuilder body and it was good to have someone in a little more beefy for a change. Kent laid down and got a little more comfortable on the couch. I was able to move in a lot closer to him to get a great close up on his cock.

One thing that I could tell from Kent was that he could control when he was going to blow his load. There were a couple of times when he got really close and then would slow down. After a few moments of letting his dick calm down then he would pick up the pace again and go for another good round of jerking off. He started to talk and moan a little bit and that is how I could tell that he was getting more turned on. Thrusting his dick into his hands, he was giving a good show. The grip on his dick got a lot tighter and he let out that he was going to cum. He stroked with one hand and then pulled on his balls with the other. Kent did say fuck a lot when he blew his load, but he came all the way up his chest. It was a good size load, and I was glad to see that everything went so smoothly for the shoot. Kent wants to come back for another shoot, and maybe will even do some work for Broke Straight Girls.