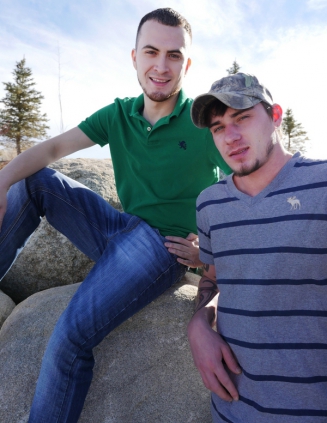 Cage Kafig has clearly been working out, and we get to admire his buff new body as David Hardy strips him down, then Cage puts his dick right in David's face and makes him suck it. David pulls on that cock with his lips, working it until it's erect and ready for fucking, and then David gets some oral from Cage, getting hard in a matter of seconds with Cage's expert mouth on his dick.
Cage gets head again from David and then they 69 before they finish with the foreplay and move on to the main event...some serious ass-pounding action! Cage gets David on the bed, doggy style, and slides his cock right into that tight ass, holding David down as he fucks him hard, slamming his hard dick so hard into David that his ass bounces with each pump.
He dominates David's ass, then decides to give him a break and let him take over and David climbs on top of Cage and rides that big cock while Cage enjoys the view from behind. David kisses Cage's feet as he gets fucked, his own prick bouncing up and down until they change positions and David spreads his legs open for Cage. While Cage is buried inside his ass, David pumps his dick until he cums, then Cage pulls out, holds David's head down and shoots his load all over his face!