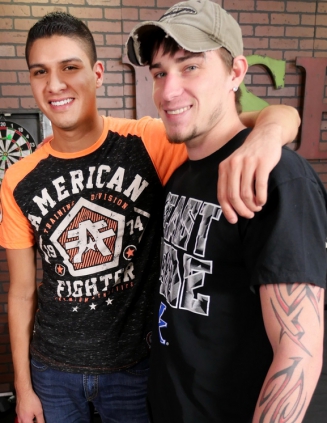 Newbie Ricky Evans is partnered up with the sexy, tattooed Cage Kafig, and these guys don't waste time with kisses, they go straight to the good stuff as Ricky stuffs his mouth full of Cage's juicy cock! He gets that dick wet with spit, alternating between his hand and mouth as he makes Cage grow harder and harder under his touch.
When Ricky's lips need a break, Cage takes that as his opportunity to give Ricky some oral, sucking on that prick and making sure Ricky is feeling good before he bends him over the bed and lubes up, entering him from behind and struggling a little to breach that tight asshole. But once he's inside of Ricky, he shows no mercy, fucking him hard, making Ricky's ass jiggle with each powerful thrust as he fills him up with his hard prick.
Ricky turns on his back and spreads his legs wide open, giving Cage full access to his tender ass, and Cage eagerly accepts the invitation to pound him some more, going hard as he wraps his hands around Ricky's neck and gets a little rough! If the choking wasn't domination enough, how about a nice cumshot to the face to finish things off as Cage gives Ricky a facial!