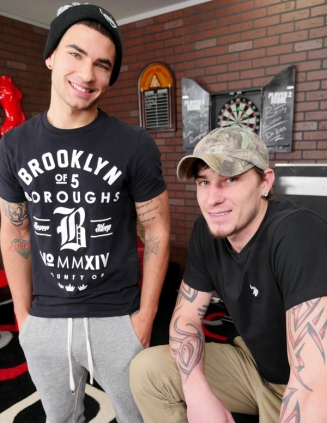 Cage Kafig is back with more tattoos and we've paired this top-rated stud with another member favorite, Vadim Black! They each show off their new tats before stripping down and kissing, but they only make out for a minute before their cocks are aching for attention and Vadim goes down on Cage.
He works on that dick, getting it harder before he straddles Cage and demands some oral, and they compromise with some sexy 69ing action! Once these well-slung boys are hard and ready to fuck, Vadim bottoms for Cage as he climbs on top of him and rides that bareback prick, moving his ass over that dick as Cage enjoys the tight fit.
But then it's Cage's turn to get his ass stretched, and it takes some time for him to get used to having a cock up his ass again, but Vadim goes slow until that ass opens up for him. They flip again and again, fucking raw and deep as each guy takes his turn bottoming until finally, Vadim fucks the cum right out of Cage and then strokes one out over his sexy, cum-covered partner!