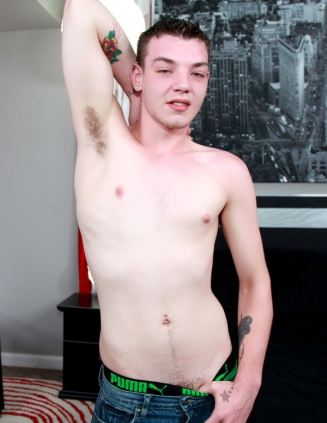 There's nothing hotter than fresh meat on Broke Straight Boys! We've got a newbie in the studio today, he comes to us from Florida and he loves sex, but he hasn't gotten much recently, so you know he's horny and ready to stroke out a nice big load…help us welcome Ryan Fields! He seems pretty nervous, but once we get him talking and stripping, he loosens up a bit and you get to admire his thin, toned and tattooed body as he gets naked.
He leaves the underwear on and massages his dick through the fabric, teasing us with the outline of his hard cock until he finally takes them off and works his member in full view! He goes nice and slow, taking his time as he plays with himself, stroking his dick from behind and giving us a nice view of his tight ass!
Then he gets on the bed, lays back and jerks his prick and we get to see just how big it is! He lubes it up some more, getting it nice and wet as he runs his hand over his shaft faster and faster, closing his eyes and cumming all over himself as he squeezes out the last drop! Next, we'll pair this stud up with another dude and see how he does!