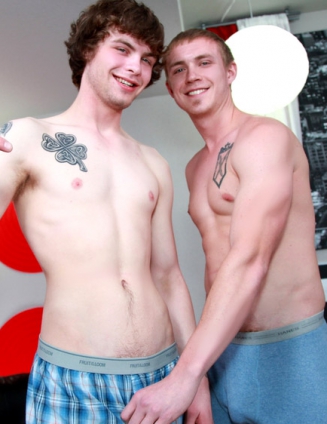 Ronan and Jake are two newbies to BSB without much experience, but we don't doubt their skills in the least, so we've paired them up to see what these two can bring to the table…or to the bed! They're more than a little horny, so they don't waste much time with kissing, they strip down and get right into cock-sucking, with Ronan giving Jake head first.
He rubs Jake's dick with his hand while he pulls it in and out of his mouth, getting Jake hard in a matter of seconds! Ronan gets some oral, too, as Jake slobbers all over his wang, running his tongue along Ronan's thick shaft and licking the tip like it's candy. Once Ronan's dick is standing at attention, Jake bends over the bed and takes it up the ass, getting fucked raw by Ronan as he takes it slow at first, giving Jake a chance to warm up.
Once Jake's ass is a little more accustomed to the feel of a huge prick inside it, he switches positions and takes that dick a couple different ways as Ronan goes a little faster, shoving his bareback cock into Jake until they both finish with some nice cumshots!