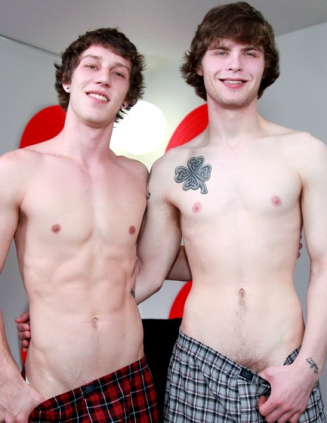 Ronan Kennedy is back and this time he's in for more than just a solo scene…it's time for him to learn how to suck a dick! We've paired him up with Paul Canon, a pro at cock-sucking, to help how him the ropes on how to get a guy off with his mouth. Ronan is clearly a little hesitant about the idea of being with a guy in any way, but he hides his anxiety well and even tries giving Paul a quick kiss!
When the clothes come off, Ronan is not hard at all…but that changes once Paul gets his mouth on Ronan's prick! Paul works that cock with his hand and mouth, deepthroating it and earning definite approval from Ronan as his cock grows to full size. Paul's expert mouth gets Ronan off in a big way as he shoots his load while Paul's lips are wrapped around his balls.
But now...it's Ronan's turn! They move things to the bed and Ronan takes Paul's dick in his mouth slowly at first, getting used to the taste and texture of that hard cock, but once he realizes there's no backing out now he goes full power and blows Paul. He moves his head up and down, using his hand and his mouth and taking that dick as deep down his throat as he can for his first time. Ronan works at it a little longer until he cums everywhere...apparently Ronan's pretty damn good for a first-timer!