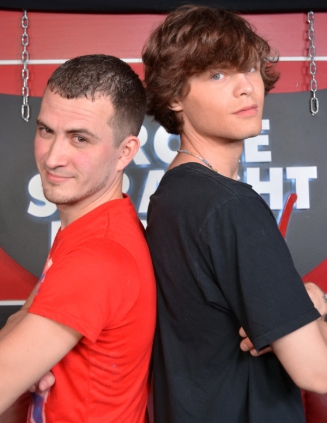 Newbie David Hardy and Ronan Kennedy are going at it today, and once they're in the same room together they don't waste any time with small talk! Ronan starts kissing David, resting his hand on David's cock as they make out, but Ronan is feeling pretty aggressive today, going right for the oral once he gets David's boxers off, and David doesn't seem to mind one bit!
But there's no doubt that he's impressed by Ronan's dick as he unleashes it and wraps his mouth around it, deepthroating that prick as best he can while Ronan massages David's meat. Once these sexy straight boys are hard and ready to fuck, Ronan lubes up David's cock and climbs on top of him, straddling David as he lowers his ass onto David's member.
David gives a few good thrusts before getting Ronan on the floor and riding him hard, making Ronan moan as he fucks him and pulls his hair. Ronan lays back on the couch next and spreads his legs wide open for David, who shoves his hungry prick right inside and slams him deep. They fuck standing up next, David ramming his cock into Ronan so hard and fast that it makes Ronan shoot a huge load all over, and David is close behind, busting a nut onto Ronan's lower back!