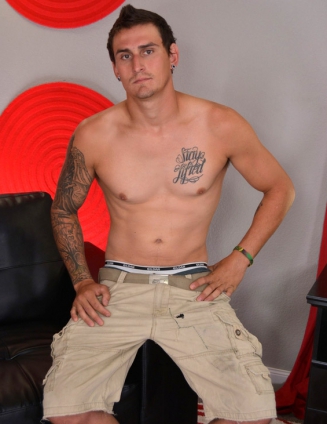 Salem Pierce is a straight boy from the Midwest who has never had any porn experience, but he's come to Broke Straight Boys for some cash, and today he'll earn that extra dough by doing a solo scene to get him warmed up to the camera. He starts his porn debut lounging in our studio, massaging his meat through his pants.
He doesn't tease us for long before the pants come off, and then the boxers, and we get a full view of his delicious dick. He makes himself comfortable, grabbing some lube and running his hands all over his cock, rubbing it up and down as he shoots the camera some very sexy glances. He moves things to the bed, kneeling on it as he strokes himself, focusing a lot on that sensitive tip and squeezing some precum out as he works that dick. By this point, his prick is super hard and we get to see just how enormous that curved cock really is!
Salem gets into it, laying back on the bed and spreading his legs apart, closing his eyes as he jerks his dick, then he gets on all fours and rubs his dick from behind, his ass spread apart just enough to give a glimpse of his tight entrance. He lies back down and plays with himself some more until he just can't take it and he shoots a huge load all over himself.