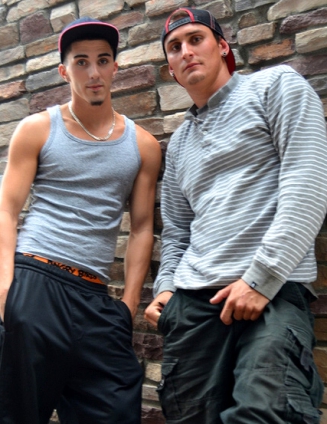 Damien Kyle tags along to pick up newbie Salem Pierce, and on the way back to the studio, Damien decides to give Salem a taste of what he's gotten himself into! When Damien suggests they have a little fun in the car, Salem hesitates for a minute but then gives in, stripping down to just his boxers and letting Damien rub his cock.
Damien pulls Salem's dick out from under his boxers and works it with his mouth, sucking that prick while Salem gets into it and grabs Damien's meat with his hand. Salem takes off his one last piece of clothing and gives us a full view of his giant cock, getting bigger and harder as Damien works his oral magic. Finally, Damien's clothes come off as well and both of these studs are ass-naked in the car, giving and receiving some super hot road head!
But when Damien tells Salem it's his turn to blow him, it takes a little more cash to convince this newbie to wrap his mouth around Damien's dick and suck. He gets that cock sloppy wet and doesn't do too bad for a first-timer, and he as a reward he gets a few minutes of Damien's mouth around his dick before he shoots a huge load, covering himself in cum!