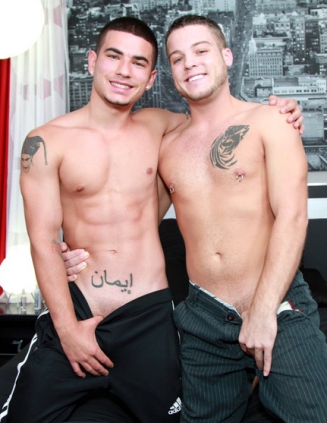 Zeno Kostas and Vadim Black can't wait to go at it, they've both been keeping busy and need to blow off some steam…and what better way to do that than a nice hard fuck! The clothes come off and Zeno's mouth is on Vadim's cock in a flash, he's licking and sucking on Vadim's package and they're both loving every minute of it.
It's clear that Vadim knows what Zeno likes as he goes straight for the nipple, sucking on it and playing with Zeno's piercings while he rubs his hard cock before pushing him down onto the chair and giving him some damn good oral! Once their pricks are hard and they're horny as hell, Vadim bends over and lets Zeno slide his rock hard cock inside of him, going in slow to give his ass some time to adjust before he starts going faster and deeper.
He slaps Vadim's perfect little ass as he rides him, and then once he's had his fill of doggy style, these two studs lay side by side and Zeno fucks him while he jerks his cock. When they can't take anymore, Zeno pulls out of Vadim's tight, sore ass and shoots his load into Vadim's mouth, making him swallow that hot jizz before Vadim gets to bust a nut!