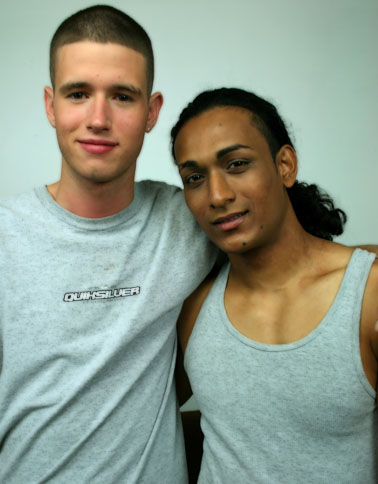 Nathan came to us through a referral from a friend who had did some work with us, because he needed a quick way to come up with the money that he owed on rent or he was going to get evicted. He's 19, and didn't have a penny to his name, so when we sat down on camera we talked about the shoots and the money that he could potentially make and I got the impression that he wanted to make more than the two hundred for a solo. That is when I hit him up for doing an oral scene with another guy so that he could make $800. Nathan was a little shocked by the idea and I had to pull him to the side for a few minutes to talk to him about it. He really just didn't want anyone that he knew to find out that he had done this, and I said as long as none of his friends or family looked at gay porn he would be just fine. In talking about the duo shoot he said that he would be down, and I had Laulin in the back room of the studio waiting.

Laulin came in and took a seat on the couch next to Nathan. Right away, I caught Nathan do a body pan of Laulin to see just what he had going on. I told them both that I would pay them $800 a piece, and then Nathan wanted to negotiate some more with the pay. He said that he wanted a $1000 to do the shoot, and would do anything I wanted. That was when I pulled out this giant dildo that I had around and asked if he would put that in his ass. Nathan laughed and said that it would take a lot more than what I was going to pay him. I had the two of them stand to get undressed down to their underwear, so that they could get hard in a little bit of privacy. Once they got hard Nathan was the first one to completely take off his underwear and Laulin was soon to follow.

Both of them were able to get hard stroking their own cocks than I had Nathan reach over and touch his very first penis other than his own. Taking Laulin's cock in his hand he started to move it up and down, it was only seconds before Laulin reached over and did the same thing. I only kept them doing this for a few minutes before I moved on to cock sucking. Laulin was the one that drew the short end of the stick and he had to give head first to Nathan. Bending over and taking the cock in his mouth Laulin was looking to be a pretty good cock sucker by the faces Nathan was making. There was chemistry in the shoot, because I didn't even have to ask Nathan to lean over and help Laulin out at the same time. After a few minutes of Nathan getting a blow job it was his turn to return the favor.

Taking the semi limp cock in his hand he started to suck on the penis very slowly so that he could get comfortable with it. I was a little shocked by the way that he moved, but he didn't complain and I just watched the two of them do this. Nathan tried to jerk himself off at the same time because he wanted to stay hard, but was having some trouble in that position. I had Laulin move to standing in front of him on the couch and that seemed to go over a lot better. When Laulin put his hand behind Nathan's head I thought that Nathan would flip out about that, but he didn't. Actually, I think that Nathan was enjoying it, even through he wouldn't ever want to come out and say it.

I tried to see if Laulin could jerk Nathan off to get him to cum by a hand job, but I think that he was having way to much trouble getting close with a guy doing it. So, I had him do it for a while and in watching him jerk off, because his dick was so big he had to use two hands. That was hot to get to watch, and when he gave me a warning that he was about to blow, Laulin reached right over there and took over in finishing up on Nathan. When Nathan came it went all over the tip and down the shaft of his cock, and it was a good size load for such huge balls. Nathan wanted to get up right away and wash his hands, but I had to take pictures and I could tell that it was just awkward for him. Laulin started to concentrate on him getting off, and so he watched the porn on the TV. It took a while, but he did start to have his orgasm and his cum ended up shooting all over his cock. Both wanted their money right away, and I told them that they could get cleaned up first. I asked if they would come back the following day to do a shoot, and maybe take a dildo up the ass. Both replied that they would think about it, so I am excited to wait and see.