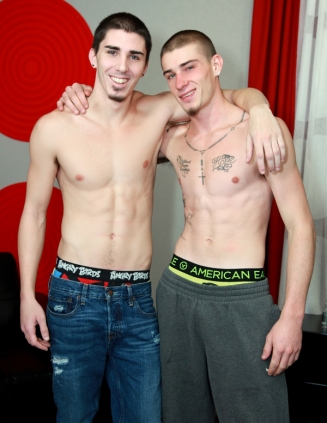 Last time Cage and Damien did a scene together Paul was with them. Now it's just a duo and Damien is ready for it to be over.
"I'm ready to get this done. Shit," Damien says to the cameraman.
Cage thinks Damien is not being completely honest.
"Don't act like you want to get it over it," Cage says.
"No. For real. I do," Damien responds.
"You want to keep this going," Cage notes. "I'm telling you. You're going to fall in love."
Damien laughs this off and counters that Cage might be the one who really wants this scene to happen.
"He is really way too excited," Damien says, pointing to the dude in the BSB T-shirt.
"That's right," Cage responds. "It's not everyday I get to fuck you."
The cameraman wonders what the two lads have been doing, but they have no stories to share. There is a confession from John, the cameraman, that when he was 21 he
fucked a cantaloupe. Neither lad can admit to such an experience. John adds the fruit wasn't ripe and that added to the experience.
The two boys finally get to stand up. They take off their shirts and argue who has the most fat. LOL! There is an interesting moment when Damien admits he's not a fan of tats.
Cage, of course, is a tattoo magnet. Opposites attract. :-)
Damien takes a seat, and pulls off his pants. Cage gets on his knees and starts sucking.
"Wake that fucker up," John encourages.
After a minute or two, Damien's dong does indeed wake up.
"You're getting better at this," Damien observes.
"Fuck you," Cage answers.
Cage slobbers up and down, getting half the meat in his mouth.
"Is that as far as you can go," Damien wonders.
"That's as far as I can go," Cage replies. "You didn't teach me that well."
Cage might not be able to go down all the way, but his eyes do water from the effort. Who said sucking dick isn't an emotional experience? LOL!
It's Cage's turn to sit back and relax. Damien licks Cage's tool, getting it primed.
"You like that," Damien asks.
"Hell, yeah," Cage responds. "You act like you've done that before."
Spit and pre-cum coat Cage's rod. Damien looks up to make sure he's doing it right. Cage is more than happy.
"You ready to get fucked," Cage wonders.
"You already know," Cage says.
The boys put lube in, and on, the important places. Cage slips a condom on. Damien gets on all fours and once Cage is in, he pounds away.
"Fuck me," Damien whispers.
He puts his head down and lets Cage fill that ass up. As for Cage, he makes sure each stroke is balls deep.
"Fuck me harder," Damien commands.
Cage is a dutiful top and does what's asked. The boys switch positions, without Cage taking his johnson out. Damien gets on his side, holding on to the sheets as he's stuffed.
"Like that," Cage asks.
The sound of skin against skin fills the studio.
"I'm about to cum," Cage says.
He pulls out and jerks his meat. Both lads are next to each other, stroking their tools. Damien pops first. His load oozes out, coating his pubes and shaft. Cage is next. The first
stream hits Damien's neck, and the rest covers his bottom's chest and stomach.
So? What should these two do next?