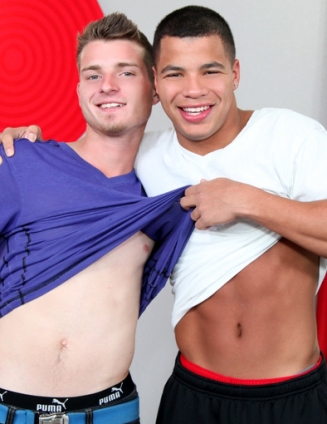 Last time Kaden Alexander was in the BSB studio he was standing over Tristan Stiles busting all over his face. Actually there were other lads with Kaden in that Christmas extravaganza, but you know that! LOL! Today it's just Tristan and Kaden sitting on the studio bed. This is Kaden's first time working with our new cameraman and he's looking forward to it.
"I'm excited to shoot with you," Kaden says. "I really am."
There's some talk about Kaden's high energy level, which he completely owns.
"If you've ever seen me at prides, you know I'm an energetic cat," Kaden observes.
Any BSB fans want to vouch for this? :-)
For those who are sensitive about female anatomy, you might want to fast forward through Kaden's story of fisting a gal's vagina. He loved it but Tristan seems shocked. Tristan's story of sexual conquest is about a lass he met at a gas station. Kaden gives him grief for that. Anyway, when they decided to get to down to business, she was a biter.
"I had a bite mark here, for five days," Tristan explains as he points to an area above his nipple.
Come on, Tristan. You is sweet tasting. What did you expect?
They take off their shirts and Kaden shows off his chest shake. Tristan lacks that skill, but he moves his eyebrows. For some some reason this freaks Kaden out. When they finally get naked, Kaden immediately hits his knees. However, Tristan wants to smooch it up first. So the two boys hug and kiss. There's lots of tongue and neck nibbling.
Kaden kisses his way down to Tristan's tool. He swallows it all and Tristan moans from the start. There are slurping and sucking sounds. Plus, heavy breathing. LOL!
Kaden goes down on that pole, licking the head. Even lets Tristan face fuck him.
Tristan wants to have a taste of meat. He pushes Kaden on the chair and returns the favor. Kaden's tool is no beginner's toy and poor Tristan gags a few times.
"What were you saying about me," Kaden teases "That I was a small dick?"
"Shut up," Tristan replies.
He can barely get his mouth around Kaden's bloated head. So Tristan decides to give those nuts a lick down. Kaden is enjoying it all. He reaches for a condom and puts lube on his sheathed sausage (and Tristan's hole). Tristan gets on the couch and and points that sweet ass toward Kaden. After slowly working his rod in, Kaden pounds hard and deep. Tristan takes each stroke with a groan.
The lads switch to the bed, with Tristan on his side. Kaden gets back in, and resumes fucking. This angle gives Kaden an opportunity to nibble on Tristan's pink nipples. It always gives him a chance to place kisses on Tristan's face. Considering all the meat in his booty, Tristan needs the romancing.
Tristan gets on his back for the home stretch.
"You know what they say about black people," Kaden says. "Once you go black, you never go back."
Mmmmm. Who knew? Well, we did learn a few weeks back that baggy pants were the sartorial style of black men. :-)
For some reason Kaden is taking his time giving it Tristan. The two kiss and the hard pounding resumes. Tristan is just whimpering and Kaden grunting. Both need to pop soon. Tristan is first. His jizz lands on the lower half of his stomach. Kaden takes a few more strokes but pulls out. His cum coats Tristan's entire chest and tummy!
"You're covered in cum, dog," Kaden notes.
"Yeah, it's not the first time." Tristan replies.
Do you want to see these two go at it again?