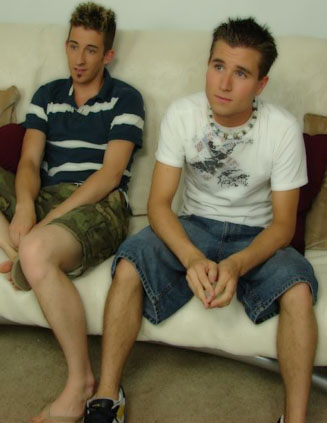 Sean came back again for another shoot with me and this time he brought along one of his friends to do a shoot with. His friend was Aiden who was 19, and very broke due to a roommate skipping out leaving all the bills to be paid. His roommate stole most of his stuff and now he is trying to pay all the rent. Sean brought Aiden by because he figured that I would be able to help out his situation and he only told him that he had to jerk off on camera to make some money with us. I told him that wasn't going to be a problem, but that Sean was going to have to do some action if he wanted to make some as well. When I spilled the idea of them touching each other and swapping bjs, Aiden's eyes got really wide and said that he wasn't interested in that. He told me that he wanted to do just a solo shoot, and I told him that right now because I had a bunch of solo shoots. I left the room for the two of them to talk about it to see if they would be interested in doing a shoot.

Both guys had decided that they would do a shoot for $1200 EACH and I told them that they had to jerk each other off, and give head to one another as well. Aiden said that he was down for it just for the fact that he really needed the money. They stood up in front of me and started to get undressed. I was watching the two and Sean had on some very funny stripped underwear. He said that his girlfriend gave them to him, and that if I continued to make fun of them he was going to leave. Aiden had on a pair of white briefs and I looked over his body. He had a slight tan on his legs, which were in good shape, tone, and lightly hairy. Working my way up his body I noticed that he had a good stomach, smooth chest, and a very attractive face. Turning around they showed their asses to the camera and I had them spread their cheeks for us to see their very tight assholes exposed.

Porn playing in the background the two of them started to get turned on with in seconds of seeing the naked chick rubbing her boobs on the TV. Aiden was very rock hard and would rub his chest as he touched his dick. When Aiden started touching Sean's dick he made a very disgusted face to show he didn't like it. He said that he was ready to get the oral over with and he bent over and licked the dick with his tongue. Moving his mouth down the cock once, he quickly pulled back and said that he felt sick. There was going to be no way he could continue doing it. I told Sean to talk to him, because I knew that Aiden needed the money to be ok.

Aiden sat back down and took the cock in his mouth again. He started to do a very good job, just very slow at doing it. I didn't want him to fill rushed, so he would keep going. When he knew that Sean was enjoying it, he started getting more into the dick sucking. The one thing that I noticed Sean really liked was when he had his dick licked up and down by the tongue. Sean placed his hand on the back of Aiden's head forcing him down more, which means that he was doing a good job. Stopping them at one point I had them switch positions. Sean licked the top of Aiden's dick and tasted his precum. The two joked around how Sean must have done this before by the way that he was twisting his mouth and the cock at the same time.

Moving down onto the floor in front of Aiden, Sean was able to get in a better position. As Aiden got his balls licked and his dick serviced he made some great moans to show his liking. Sean was very good at getting much of the dick in his mouth. I had Aiden lay down so that we could work on giving a cum shoot. Sean was going to jerk him off until he blew his load, so he went for the lube. As Aiden's dick was being stroked for him he would move his head around. He kept his eyes closed most of the time, but would open them to look around. Giving me some warning he told me that he was going to blow his load and had a pretty excited tone to it. Panning the camera down, I captured his load shooting out like a rocket onto his lower stomach, and covering Sean's hand as he continued to play with Aiden's cock. Switching places on the couch, Sean wanted to get his load off, and to my surprise Aiden was willing to do it. Aiden laid his face down on Sean's chest and I thought it was weird that he was getting in the line of fire of cum. It only took seconds of Sean being jerked to blow his load. The cum shot out on his stomach, and didn't end up getting any on Aiden's face, but maybe next time. Aiden said that it wasn't as bad as he thought it was going to be. I was glad that I was able to help him out with paying rent.