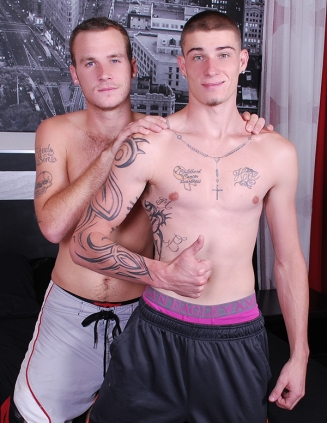 Poor Cage. He looks so forlorn when this update starts. We soon learn the reason for his upset.
"I'm excited about this scene Cage because you're going to get fucked," the cameraman says to the stud. "I've been looking to it for a quite awhile," the cameraman continues.
"I bet you have," Cage replies.
"He's excited," Romeo, the dude who will own Cage's ass virginity, says.
Easy for him to say,no? The cameraman asks Cage what he thinks he'll feel.
"It will probably hurt," Cage replies.
Come on Cage! It won't be that bad! LOL!
"I'll break him in nice," Romeo promises.
That seems to make Cage more uncomfortable, but after some silence he gets revved up.
"Stick that dick in my butt, baby," Cage announces. Hell yeah."
That brings a laugh from Romeo and the two studs strip. Cage isn't pleased with the speed of his scene partner's undress. Should Cage really be giving grief to the guy who is about to break in his booty.
"I was going to fuck you nice, but now whatever," Romeo warns.
"Just remember pay back is a bitch," Cage answers.
With that Romeo opens his mouth and swallows Cage's cock. His nose scratches against pube hair.
"Fuck, yeah," Cage whispers.
Romeo knows how to make Cage happy. At least for now. LOL! Spit slicks up that hard shaft. Romeo comes up air, but gets a passionate kiss for his efforts. Cage goes down on Romeo. His toes curl as he
slobbers all over Romeo's rod.
"Suck that cock," Romeo orders.
Cage can only get so far. No deep throating for him, but his tongue does the trick. Romeo keeps his hand on the back of Cage's neck. It's like he's worried the stud will go somewhere.
"That good," Cage asks.
"Yeah. Good job," Romeo replies.
There's another round of passionate lip lock before Cage gets on top of Romeo. This allows for some sweet 69. Cage's mouth overflows with the sausage that is about to bust him open. Both boys moan and
groan as they orally take care of each other. Cage even takes a swipe at Romeo's nuts.
The boys kiss before Cage gets his back. It's time, baby! Romeo lubes up and slowly puts his meat in that hot boy pussy.
"How does that feel," Romeo wonders.
"Fuck," Cage replies.
But this is Cage we're talking about. His seal is broken, but he's going to take charge.
"Yeah, fuck that ass," Cage demands.
"Nice tight hole," Romeo notes.
"Oh, my God," Cage cries as Romeo starts to go balls deep.
The pounding picks up and Cage moves away. However, Romeo brings him back on his tool.
"How does that feel," Romeo asks.
"Not going to lie," Cage responds. "It hurts."
Bite that pillow Cage!
Romeo is filling that ass up. He leans in and plants a kiss on Cage's lips.
Cage gets in the doggie position.
"Back it up for me," Romeo orders.
Cage does back that sweet ass up, working it like a pro. Romeo grabs his ankles as Cage pushes his cheeks back on that pole. Romeo takes over and Cage's moans get louder. He throws his head back as he gets
pummeled.
Before Cage gets on his side, the two studs make out. Romeo gets his dick back where it belongs.
"Fuck that ass," Cage commands.
Romeo pumps away. Slow stuffing that virgin hole. Cage busts a nut that covers his chest. Romeo pulls out, stroking a load that covers Cage's hole, nuts, and dick.
"Thank you for being my first," Cage says after the studs kiss.
How can you not find this dude hot? Love him and Romeo! LOL!