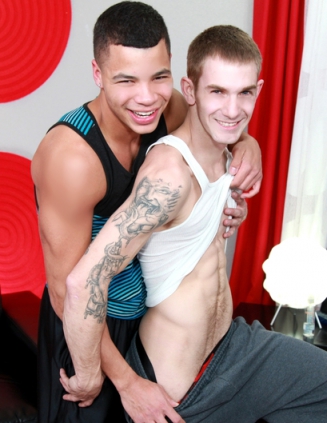 Dakota and Kaden tear into one another, ripping off their clothes and exchanging some rough kisses before Dakota gets on his knees and gives Kaden head, letting him shove his cock so far down his throat he gags on it! But don't worry, Kaden gets his turn to choke on Dakota's meat as Dakota face fucks him and he slobbers all over that cock.
Once these two have had their fill of cock-sucking and ball-licking, they kick it up a notch and bring a toy into the mix and Kaden lubes that dildo up and sticks it as far up his ass as it'll go while Dakota wraps his mouth around Kaden's cock.
Now that Kaden's got his ass warmed up, Dakota isn't gentle when he sticks him with his prick and fucks him hard and bareback, slapping Kaden's ass and pounding him from all angles as Kaden moans and begs for more until Dakota shoots his load and then sucks Kaden off! As if that weren't enough, Dakota cleans Kaden up a little by licking off some of that jiz!