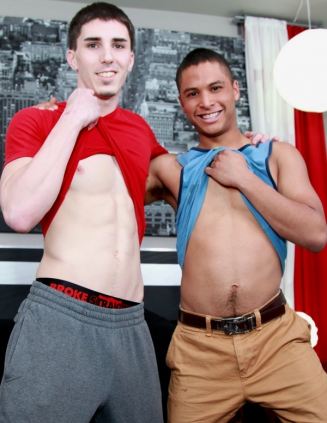 Jaden's got some apprehensions about sticking another dude's dick in his mouth, but we've got Damien here to show him the ropes of giving another guy head. And as much as Jaden keeps trying to talk his way out of it, eventually he accepts his fate and takes his clothes off, climbs onto the bed and exchanges some kisses with Damien.
Under Damien's direction, Jaden lies back and closes his eyes as Damien goes to work on Jaden's cock, getting it soaking wet and hard as a rock as he sucks on it. Jaden's not afraid to admit that he's actually enjoying Damien's hot mouth around his throbbing cock and he thrusts his prick as far down Damien's throat as he can before Damien works his magic and makes Jaden cum all over.
But now it's Jaden's turn to suck off Damien, and the hesitation is back as he takes the tip of Damien's cock in his mouth and gets a feel for it before getting a little braver and sliding more of that dick into his mouth. After he makes Damien nice and hard, he sucks him off and even gets a little taste of that hot salty jiz!