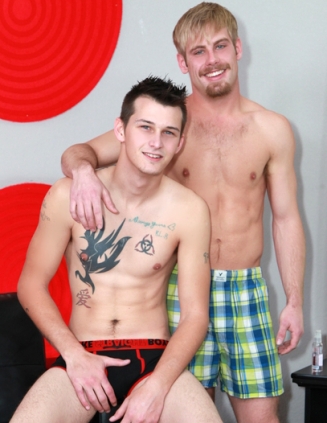 Jaxon and Tate are Southern country boys with some fine asses and eager cocks! These two studs make quite a pair…and just wait till they fuck! Tate's ready and waiting to get his ass pounded, and he gets the show on the road as he kisses his way down to Jaxon's cock and sucks on that dick like it's the best meat he's ever had the pleasure of tasting.
Once Tate's gotten his fill of Jaxon's mouthwatering cock, Jaxon goes down on Tate and works his prick with his mouth and hands until these two are both ready to take it up a notch! Tate tops Jaxon first, fucking him hard as Jaxon moans in pleasure and cringes in pain as he feels that massive dick slamming him from behind. Once his tight ass stretches to fit Tate's big cock, Jaxon starts to beg for more of that hot bareback action…but Tate's looking to fucked hard, too, and they flip, Jaxon lubing up Tate's super tight entrance before shoving his dick inside.
He bends Tate over the bed, making sure to get him in a position where he can get his cock in nice and deep. Tate's ass bounces as he bottoms for Jaxon, getting plowed hardcore before he turns onto his back and takes it up the ass in a new way, crying out in pleasure as his sore ass takes a pounding! The energy between these two is sexy as fuck and as Tate's ass is filled with Jaxon's thick cock, he strokes one out and shoots his load onto his abs. Jaxon can barely get his dick out of Tate's ass before he's cumming all over, too! Damn, these Southern boys can fuck!