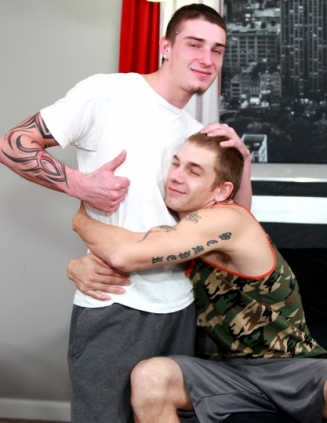 When this promising update starts Cage Kafig is standing next to Dakota Ford, who is seated on the bed. "Standing over me like I'm prey or something," Dakota observes about Cage. "You are," the cameraman replies. Dakota admits he's learned a little bit about Cage, but he adds everything he knows has nothing to do with the size of his member. LOL! "I know better to talk about him before I get fucked," Dakota says. "I know better." Smart man. Cage promises to take it easy on him.
Dakota takes off his shoes and stands next to his scene partner. Cage towers over him. Who knew Dakota was Hobbit sized? :-) There's not much going on in Cage's life, except for drama. "I'm going to take my anger out in this scene," Cage says as he puts his arm around Dakota. "Yeah, I'm going to get some of the revenge fuck," Dakota notes. "It is what it is." When the boys take off their shirts, the cameraman notes how their body types are similar. Dakota points out they have comparable outside interests. He's a boxer and Cage does mixed martial arts. "We should get you to spar sometimes," the cameraman observes.
Dakota gets to show off his new BSB underwear, red on black. "In the end, you took care of me," Dakota notes. Watch out for those double entendres, Mr. D! LOL! Underwear are lost, and there is the butt comparison. They flex those cheeks and get a new name: the "Clench Brothers." Dakota gets on the bed and Cage on his knees. From the start he deep throats that rod, an impressive feat considering Dakota's size. "He likes it," Cage notes. "Motherfucker is hard already." Dakota moans encouragement, grooving to Cage's effort tears. "You good," Cage asks. Dakota is. Who wouldn't be?
Cage moves to the chair so Dakota can show his oral talents. After a few swipes, he gets that dick bursting at the seams. But that's a lot of meat. He coughs from all the effort, but after a few moments he offers a thumbs-up sign. It's fucking time. "Give the rookie a break," Dakota begs. He gets on his hands and knees. Lube is placed where it should be, and Cage works his dick in that man hole. Poor Dakota screams into the sheets. Cage goes slow at first, giving his bottom a chance to get used to the filling. He does pick up the pace, making Dakota go from pain to bliss. And back again. "Cage, your dick is so big," Dakota whimpers. And the crazy part? The sexy stud isn't even going balls deep.
Dakota gets on his side and Cage returns to deep pounding. In this position, Cage goes to the balls. Even gives a reach around. He's marking that ass as his. Dakota puts a leg straight in the air and grits his teeth. He's moaning to th gods, but his cock is hard. Dakota gets on his back moans "oh, yeah" repeatedly. He jerks his meat as Cage makes him a new booty hole. "I'm about to cum," Dakota says. He does, jizz covering his abs. Cage still pounds away, even with his bottom crying and squirming away from that hard dick. Cage eventually pulls out, and busts a load that first hits Dakota's chine and neck. Cage says he got rug burn on is dick. Dakota isn't pleased with the juice on his face. "This is all for you," Dakota says to the camera. Thanks, Mr. D. We appreciate it. LOL!