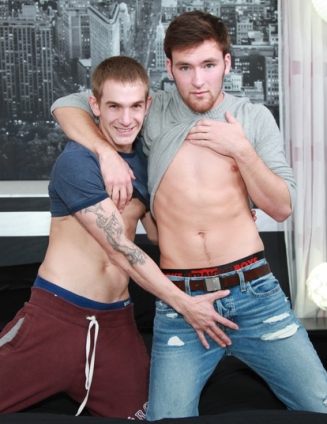 Here is the thing about gay porn most fans don't want to hear: it ain't easy. Lovers of blue films just think all it takes for a hot 30 minute video is some lube, a camera, and horny dudes. Those things help of course, but the models need to block out the entire artificial nature of it all. From the bright lights to a stranger asking to contort a certain way. And there is this thing about getting wood and popping a load. Sure we do it all the time, in the privacy of our homes, when our favorite models have a new scene, but add a few more people in the room, and lights , and it might not be so easy to get blood to the member. LOL!
Why this long winded intro? Because in this update Ian Dempsey is sharing the hassles of his first video. It took four hours because the cutie couldn't get hard.
"It was insane," Ian recounts."I felt horrible. "You feel embarrassed. You're like, 'dammit I'm better than this.'"
Dakota Ford, the newbie sitting next to Ian, finds this story hysterical. But it also comforts him because it proves any anxiety on his part isn't new.
"I don't want to be the new guy forever," he says to the cameraman.
The talk eventually moves to Dakota's wife and the cameraman bets she will watch the scene. And get turned on.
"I'll take you up on that," Dakota replies, with a smile.
But after realizing that straight women, like straight men, have a thing about watching gay sex, Dakota backs away from the bet.
"Women cum like crazy," the cameraman notes.
BSB female watchers? Do you agree with this assessment? :-)
The boys strip. Dakota is slightly miffed because he's the only one without Broke Straight Boys underwear. The cameraman promises he'll get some.
"I want to feel part of the team," Dakota insists.
One way for the newbie to be a member of Team BSB is to suck some dick. Ian gets on the bed, and Dakota slobbers all over the rod. He looks up in Ian's face as he suctions away. Even chokes a bit.
"I can barely fit this in my mouth," Dakota says.
Give it some time, Dakota. Soon you'll be able to deep throat. LOL!
It's Ian's chance to return the favor.
"Yeah, suck that dick," Dakota orders.
As we all know, the newbie has a big old nasty thing. Ian's mouth is stretched to the max, but the veteran takes all the meat.
"Why don't you jump on the rocket," Dakota suggests.
Lube is put in all the appropriate places and Ian takes a seat.
"Ride that dick," Dakota orders.
From the first stroke, Dakota's balls are hitting Ian's cheeks. That might be a long pole, but look at Ian's own dick. Sticking straight up to the ceiling.
Dakota wants to have more control fucking that ass, so he puts Ian on all fours. The bottom loudly moans as his ass gets remade. Ian wants every inch of the sausage. He knows when his special spot is getting a good pounding.
Ian gets on his back and lets Dakota break that seal for a third time.
"Oh, shit," Ian mutters.
The strokes are balls deep. Ian even strokes Dakota's chest like he wants a kiss. When Ian cums, jizz covers the bottom half of his stomach.
Dakota keeps pounding away for a few more strokes, making his poor bottom grimace. Finally he pulls out and beats his monster. The man milk flies out, landing right below Ian's belly button.
"He's definitely on his way to getting his underwear," Ian jokes after calming down.
Ian also has discovered a newly found appreciation for Dakota's wife, who has to deal with that extended extension on a consistent basis! LOL!
"I feel like I know you more now," Ian says.
Yes, and we are all jealous of that! LOL!!