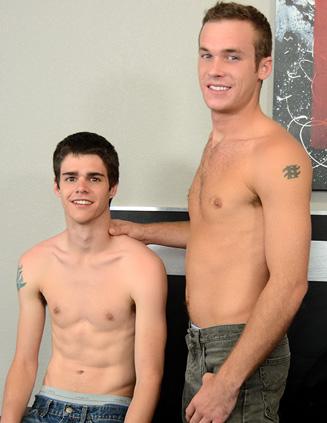 Lone Star State studs Romeo and Skyler are sitting on the bed when this update begins. The last
time these two were together, they were sharing a shower! According to the cameraman, Skyler is
out of sorts because in most of his recent scenes his booty has been getting busted. That will
happen today. Romeo is asked if he wants to switch it up. He politely declines. :-)

Skyler is still unemployed and his car continues to be in the possession of others. :-)

On to more pressing matters, this will be the first time Romeo gives it to another man. He's feeling
slightly nervous.

"I don't know what to expect," Romeo says.

He's never fucked a girl in the booty, but the cameraman tells him it will be fine. Skyler has a
reputation of having a tight hole. LOL!

The Texans strip and jerk each other off. Romeo then leans over and takes Skyler in his mouth.
After a few licks, Skyler's rod turns stiff.

"That's pretty quick," the cameraman says to Romeo. "We'll have to hire you as a fluffer."

Romeo smiles and shows off his deep throating skills, which are pretty impressive. Notice how
Skyler is no longer complaining? LOL! A good blow job fixes all problems.

"My eyes are watering," Romeo says.

"That means you're doing right," the cameraman replies.

Skyler gives Romeo a break and tries to match him stroke for stroke. He must be doing something
right because Romeo starts to groan.

"Oh, fuck," Romeo moans.

Skyler deep throats with gusto, making sure his nose nuzzles Romeo's pubes. All of this sucking
gets Romeo ready for the main course. Skyler hands him a condom. As he puts it on, Skyler places
lube in his canal. He gets in the doggie style position, and Romeo saddles up.

Our new top doesn't give Skyler a chance to get used to anything. Balls deep from the start. Skyler
whimpers and grits his teeth. When told he backs up his fine ass.

"Oh, fuck," Skyler whimpers.

"You like that," Romeo asks.

Skyler doesn't respond, but Romeo doesn't care. He wants to mark that hole.

Skyler gets on his back, and Romeo continues to pound away. The fucking gets faster, pushing
Skyler over the edge. His load explodes and coats his pale stomach. Romeo pulls out jerks a big
old load that mixes with Skyler's man milk.

So? Is it fair to call Skyler the new BSB pass around bottom? LOL!