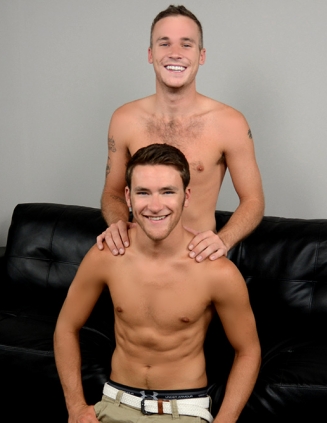 Romeo is such a romantic dude. Ian also! LOL. The two hotties start this video making out in the couch. There's kissing, nibbling, and some licking. As they make out, they
strip to the underwear.
Romeo licks Ian's armpit, and then they get naked. Both are ready for oral action, their tools sticking straight out. Romeo sucks first. He gets on his knees and swallows what
Ian is offering. As he takes care of Ian's meat, Romeo makes sure to caress the heavy nuts.
Ian whispers encouragement, enjoying the warmth of Romeo's mouth. Can you blame him? :-) Romeo comes up for a kiss, which Ian gladly returns. He then gets on his knees
to take care of Romeo's rod.
"Fucking suck that cock," Romeo whispers.
Ian does so, taking it to the root. His nose is pressed against Romeo's pubes. He looks up, those pretty eyes wondering if he's doing a good job. LOL! Romeo's moans of
appreciation tell Ian all he needs to know.
Ian stands up and the two kiss some more, smacking sounds filling the studio. Their hard dicks bump into each other as they swap spit.
Romance is over. LOL! Ian gets on his hands and knees, and Romeo gets behind him. In one stroke he's in that boy hole. Ian does ask for some more lube, and Romeo
obliges. A kind top.
Ian bites his lip and loudly moans. He even puts a hand on on Romeo's stomach to keep him from going so deep. Romeo pummels that hole, making it anew.
There might be some pain, but look at Ian's cock. Straight out and hard. He gets on his side and Ian returns to that boy pussy. As he pounds , he nibbles on Ian's chest and
thigh. Kissing interrupts a few strokes.
"Oh, fuck," Ian whimpers.
Romeo gives Ian a reach around as he fucks that butt. He puts Ian on his back so he can better access his prize. Ian cries out because this position allows Romeo to go even
deeper. Don't let the cries fool you. Ian is delirious for that dick. Romeo feels the same way about that ass.
Ian busts a juicy load that coats all that smooth skin around his belly button. Romeo pulls out and his cum slathers Ian's chest and stomach.
Good fucking requires good kissing. Which is what we get at the end!