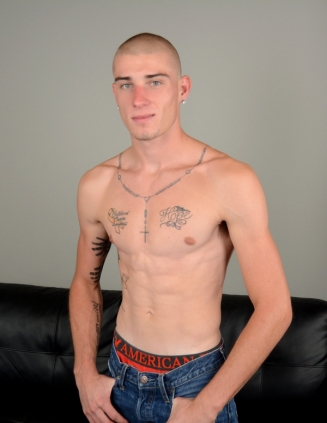 Cage is a 20-year-old Kentucky boy. Like most southern lads, his mother raised him right because
he answers questions with "yes, sir." :-)

He has no hardship tale. Cage just likes to spend money.

"Just for extra spending money," he says when asked why he's jerking it in the BSB studio. "Just to
have fun."

When it comes to where his cash goes for this fun, Cage is pretty basic.

"Cars. Trucks. Toys. All sorts of things," he says. "Shoes."

The slim stud is sporting some rocky green sneakers to match that green shirt. LOL!

He has a girlfriend, but she isn't fully up on the details of his trip. He told her he was "out here
modeling," which is all true. :-)

"As long as I bring home money," Cage adds with a laugh.

Smart girl, no?

He's never been with a guy, but has gay friends. You'll fall for him when he tells the story of
catching two of his friends in bed. He thought they were doing a girl, but another guy was involved.

"Turned the light on. Turned the light off and walked right out. Kind of petrified me," Cage retells.

They didn't notice him. :-)

Give Cage props for having eclectic musical taste. It ranges from Brad Paisley to Lil Wayne.

When asked about his sexual fantasies, Cage offers nothing in particular. However, he does give a
perfect BSB t-shirt slogan.

"You got try everything, at least once," Cage says.

Lovers of tats will drool over Cage. He has them on his chest, arm and back. Although he's a
newbie, Cage lacks any nerves.

"Just another day at work," Cage notes.

He gets naked and starts jerking. His meat is one of those that curves to the side. It resembles the
owner. Long, thin and sturdy. No wonder his girl can't keep up with Cage's needs. LOL!

The stud plays to the camera, looks at us like he knows we want it. Which is true. LOL!

We get a shot of his extremely hairy butt hole.

Cage isn't an eager stroker. Takes his time. Doesn't rush things. A man with the slow hand is the
best kind. Soon though, Cage has to bust. And does he! Five spurts of cum explode from his
monster. One even hits his shoulder.

"Told ya," Cage smiles. "It was saved up."

So. Should Cage save some more of his nectar for BSB?