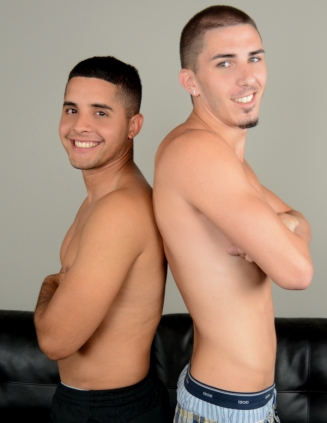 Damien Kyle has returned! The cutie's responsibility in this update is to give newbie Shane Ridges
pointers in how to make a man happy. Even with his recent solo behind him, Shane isn't convinced
about the power of dick. LOL!

"I really wasn't convinced yet," Shane says to the cameraman.

"Convinced about what," the cameraman wonders.

"Sucking dick," Shane responds, with that sexy grin.

Damien doesn't want to be called a pro at pole love. At least yet. :-)

The two strip to their undies. Shane has never jerked with a guy before, but calms down a bit when
Damien reaches over.

"He's go the magic touch," Shane observes.

"Apparently. Shit," Damien says with his hand all over Shane's big sausage.

Shane gets naked and Damien blows away. Poor Damien. That's a lot of meat for one guy. Shane
stands up and Damien keeps with the oral loving. Shane's tool stands straight out, veins popping out
all over the shaft.

The newbie sits backs down and Damien gets back to work on that uncut piece of slab. The pro
alternates between sucking and jerking, the sounds of smacking echo in the studio. Shane's toes curl
on themselves as Damien works that soft tongue.

Shane takes his meat and beats it as Damien licks away. He pulls off, with his mouth slightly open.
Shane strokes his pud, and he shoots all over Damien's lips and tongue.

After calming down, it's time for oral favors to be returned. Shane is none too pleased with the
prospect, even with his fuck tool sticking straight out. He gets on those knees and gently puts
Damien's rod in his mouth. The first sucks are tentative and uncertain. When he tries to deep throat,
Shane immediately gags.

"Breathe through your nose," Damien advises.

Shane gets on the couch for a better angle.

"Fuck," Damien whispers.

The newbie is doing something right.

"All the way down," Damien says as he grabs the back of his scene partner's neck.

Damien jerks while Shane sucks away. Damien shoots a load that coats Shane's tongue. The newbie
isn't pleased with the taste of man nectar, and spits some of it out.

When asked how things went, Shane offers a promising answer.

"It was better than I expected."

Who else should Shane be paired with?