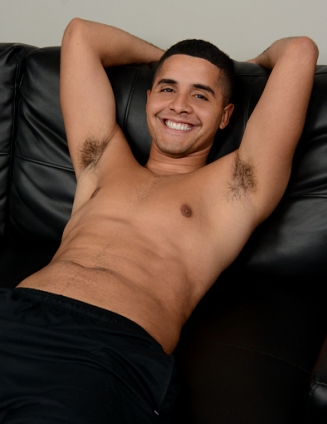 BSB fact: if a model is stroking when the video starts rolling, he's primed to play. Newbie Shane
Ridge is feeling his meat, through his shorts, when we first get a glimpse of that pretty face. The boy
is more than ready for this.

He's here for the usual reason. Greenback needs.

"I just recently discovered I'm having a kid.T he first job isn't making so much, so I have to make
ends meet," Shane says to the cameraman.

The soon to be proud poppa was in sixth grade when he started jerking it.

"I was chatting online with this chick, and she started sending me pics and videos."

As Shane describes, intuition kicked in and the rest is history. Now the horny dude jerks off three to
four times a day! You read right! No wonder Shane was stroking his sausage when this episode
started. LOL!

He admits to being nervous, but the lad shouldn't be. He has all the goods, which is even more
obvious when he pulls off his clothes. He's carrying an uncut package, which he's never measured.

Shane pulls his pud and strokes his chest. All of this gets his staff at full mast. Notice how the newbie
plays with his nipples. Can we get a dude to give them a suck? :-)

When Shane stands up, he offers a sexy big dicked stud grin. He's self-conscious though, doing his
best to forget he's being gawked at.

He gets back on the couch, this time on his back. The meat stick has gotten bigger, which should
scare any future bottoms Shane might meet. LOL! He keeps the jerking speed at high, making sure
his hand remains on the bulbous head. The initial nerves give way to the irresistible need to bust a
nut. His stroking speed picks up, and Shane returns to flicking at a nipple.

With no warning, Shane shoots a load that covers the bottom of his stomach. After he calms down,
Shane flashes one more sexy grin and everything is right with the world.

So? What do you think?