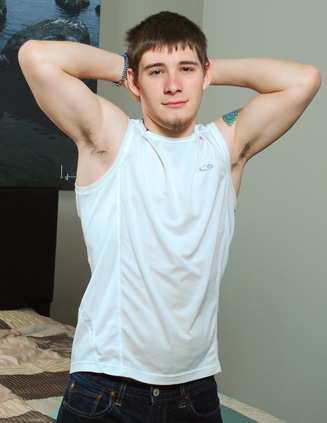 Jerek Miles has to buy a number of holiday gifts. Not a bad thing, but the former Starbucks manager is presently unemployed.

"Everyone is filled up with their seasonal employees," the 20 year old said to our cameraman.

So how can a straight lad earn some good cash if Aunt Sadie wants a new iPad? Put on a show in the BSB studios! LOL!

He is pleased with his sex life and rumor has it he has a nice sized wang.

"I don't get it everyday, but at least three times a week," Jerek noted when asked how many times he gets a taste of booty.

He has "stuck in the snow story" and did a three-way with a guy and girl. The dude in the trio was bisexual, but Jerek, alas, wanted to focus only on the lady's pleasure. :-)

With that said, he's comfortable jerking his meat for a bunch of guys (and our BSB ladies!).

"Just another day in the neighborhood," he says.

The newbie's goatee gives him a hipster/nerd vibe; it's easy to imagine Allen Ginsberg penning an ode in Jerek's honor.

He clearly knows nothing about tanning salons (good hipster boy). His pale skin is smooth, tender and fresh. When he starts beating his meat, it gets rock solid. He has one of those thick dicks. The kind that cause the type of sweet pain bottoms crave.

On his back, his toes curl with pleasure. He stifles a yawn as he gives that pole constant hand motion. When he cums, the nectar shoots out multiple times. The juice slimes the furry trail from his navel to pubes.

Should we bring him back? What do you want to see him do?