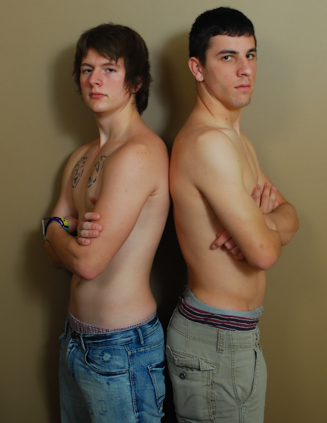 Clayton and Scott are in the studio, and today, Scott is going to get his cherry popped by Clayton. Right away, it's easy to see that Clayton is really looking forward to fucking Scott. As for Scott, there is no doubt that he is pretty nervous. The boys stripped off naked, their clothes flying every which way and once they were completely nude, I told Scott to turn around. Flashing his ass towards the camera, Scott got his butt cheeks slapped by a very willing Clayton. The boys clambered onto the bed, sitting side by side. With a dollop of lube each, Clayton and Scott worked on getting their cocks rock hard. As they slid their hands up and down their stiffening shafts, Clayton couldn't keep his eyes off Scott.

It only took a few minutes before both boys had cocks pointing towards the ceiling and as such, I told Scott to make a start. Leaning over, Scott slid Clayton's hard cock in between his straight boy lips. As he bobbed up and down on the stiff dick, Scott wanked himself off at a leisurely pace. There was no doubt that Clayton was enjoying the feel of a hot, wet mouth surrounding his cock and he panted quietly as he got more and more turned on. Encouraged by the feel of a heavy hand on the back of his neck, Scott tried to go down as far as he could and while he didn't quite manage to go all the way down, he did pretty well for someone who isn't used to the taste of cock. Every now and again, he would come up for air, pumping Clayton's shaft as he relaxed his jaw a little. However, now it was time for Clayton to show off the oral skills he has picked up along the way. Leaning back against the head board, Scott groaned in pleasure as Clayton swallowed down his thick cock. As Scott had such a thick dick, Clayton concentrated on just the head, using his tongue stud to rub along the underside and making Scott's breath hitch. Slowly wanking himself off, Clayton bobbed down on the cock a little further but wasn't able to go down too far. He broke off every now and again, making sure to give the thick cock a couple of good, hard pumps before swallowing it back down.

All too soon, it was Scott's turn to get his ass pounded by the very capable Clayton. The two boys got themselves prepared; Clayton rolling on a condom while Scott lubed up his ass crack and then got into position on the bed. On his elbows and knees on the bed, Scott clenched his teeth as Clayton started to work his cock into the virgin ass. Slow and steady was the order of the day as Clayton tried to be as gentle as possible for Scott, however, one particularly hard thrust had Scott grunting in protest. Hissing in pleasure as he felt the tight ass surrounding his cock, Clayton thrust in and out of the ass in a slow roll of his hips. Clayton demanded that Scott get onto his hands in order to raise his body up to the one level, something that Scott had no hesitation in doing. As he sped up his fucking, Clayton wrung a moan out of Scott who wasn't used to the feel of a cock in his straight boy ass.

At my prompt, Clayton grabbed onto Scott and turned him over onto his back, telling him to scoot backwards. Scott, on his back with his legs spread wide, groaned as Clayton slammed his dick back home. Setting a fast pace, Clayton held Scott's legs apart even as Scott dug his fingers into Clayton's thighs. Reaching down, Scott wrapped a hand around his cock and started to jerk himself off in a fast and furious motion. It wasn't going to be long before one of these guys shot their loads but it was just a matter of who went first. Surprisingly enough, it was Scott who showed off his cum shot first, even as he was still being fucked by Clayton. Only a minute or two after he first started tugging on his dick, Scott shot all over his stomach and thick pubes. Clayton didn't pull out, instead, he kept riding Scott's ass as he got closer and closer to cumming. One.. two.. three hard thrusts later and Clayton withdrew his dick, tore off the condom and put in some serious wrist action. As he felt his orgasm come crashing down on him, Clayton rose up on his knees, cum spurting over Scott's stomach before dribbling down his hip. While Clayton will certainly be back as he definitely enjoyed the experience, Scott was left feeling a little shell shocked so it's anyone's guess if he is going to be appearing anytime soon!