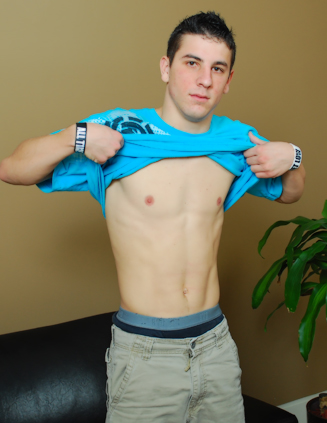 Scott is an 18 year old aspiring college student who wants to study either Nursing or Music. Recently single, Scott, who has an 8 inch dick, readily admits to jerking off quite a lot whenever the opportunity presents itself. Standing up, Scott stripped off his t-shirt, revealing a slim and toned upper body before continuing down to his boxers. Flinging his cargo shorts to the side, Scott couldn't help but give a cute little 'oops!' gesture when his shorts hit a piece of recording equipment. Scott turned around, still clad in his undies and showed off his ass to the camera. Facing forwards again, Scott pulled down his boxers, letting his dick and balls hang free as he told me that, when soft, his dick is about 5 inches or so.

Now, it was time for Scott to show off his hand skills. Grabbing a bottle of lube, Scott slicked up his cock even as he asked if it was ok to jerk on his dick while standing. I told him that it was more than ok so Scott started to leisurely play with his cock. Glancing at the straight porn as it played, Scott treated his dick to long, slow strokes. It wasn't long before Scott was panting in delight and even though it was obvious he was somewhat intimidated by the presence of the camera and another guy in the room, Scott tried his best to concentrate on his self pleasure. Sliding his hand up and down his shaft, Scott paused for a moment so that he could squirt some more lube over his lengthening shaft. At my hint, Scott sat himself down on the couch, legs spread wide.

Scott started to wank off in earnest, his tugs getting harder and harder as he worked his cock. Every now and again, Scott would massage his balls with his fingertips, his breathing getting shakier as he got more turned on. He was putting a huge effort into giving Broke Straight Boys a good jerk off scene, so much so, that it was easy to see Scott's stomach muscles clenching every so often. Another pump of lube and Scott shifted so that he was laying down on his back. Scott had a great assortment of expressions trekking across his face as he wanked off, mainly, one that looked like he was in great pain, there was no doubt it was only pure excitement he was experiencing. Still, to be sure, I couldn't help but ask him if he felt good, Scott grinning widely as he nodded.

However, as his hand flew up and down his shaft, it was obvious that Scott was going a little soft but like any young man at BSB, Scott soldiered on and only a moment or two later, his cock was rock hard again. Yet more lube and Scott indicated he was on the home stretch. His abs tensing, Scott pressed his fingertips hard into his ballsac as he jerked himself off. Suddenly, panting hard, Scott shot cum up onto his lower stomach, into his belly button and into his thick patch of pubes.