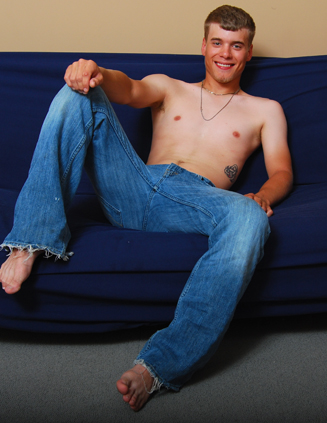 I spied Jack earlier on in the day and thought he would look great in front of the camera and as it just happened, my pool needing cleaning. Jack had just lost his previous job for failing a random drug test and with a new baby added to his household, he was in desperate need of any extra cash he could come across. Offering him $40 to clean the pool, Jack was happy for the chance to get some more dosh. He stripped off his jeans, t-shirt and underpants, flashing his cock at the camera as he changed into a pair of bright yellow shorts.

Taking up the long handled pool scoop, Jack started skimming the leaves from the surface of the pool then asked if there were any other jobs he could do for me as he was looking to make another $50 for the day. Jack wasn't quite the usual innocent straight boy that appears on Broke Straight Boys as he started playing with his dick and said he would do whatever it took to make the $50. I watched him play with himself for a minute before I told him that I was sure we could work something out and took him downstairs and into the studio.

Sitting on the futon, Jack admitted that he had jerked off for money a few times before when he had been hard up. Jack stood up and got naked, revealing a pale but toned body with a thick bush around his cock. Turning around, Jack showed off his well rounded ass to the camera. Sitting back down, Jack wrapped a hand around his dick and started jerking himself off. It didn't take long for Jack to get rock hard and when I commented on what a nice dick he had, Jack said I could touch it for another $20 but I politely declined the offer and just watched Jack stroke his dick. A dollop of lube and Jack slid his hand up and down his shaft.

Raising his legs, Jack gave me a good view of his ass hole, licking his finger and rubbing it along his hole. Dropping his legs, Jack kept wanking off as he watched the straight porn. Standing up, Jack leisurely played with his dick for a few minutes before kneeling on the futon and shoving his dick between his legs. I told him to arch his back and stick his ass out so that there was a better view of his hole. As he jerked off, Jack was pushing his balls between his legs so they bounced on each down stroke. Jack turned around and sat back down, his hand never straying far from his cock.

Another squirt of lube and Jack was getting close to being ready to cum. When asked, Jack grinned loudly as he admitted that he was pretty proud of his cock and that he liked to put on a show. As he pumped his cock, Jack said that he couldn't wait to see the money. Panting hard, it was clear that Jack was only minutes away from cumming all over himself. More lube and Jack started pulling on his cock in a fast and furious pace. Sweat dripping from his brow, Jack climaxed, cum dribbling down his shaft and into his thick pubes.