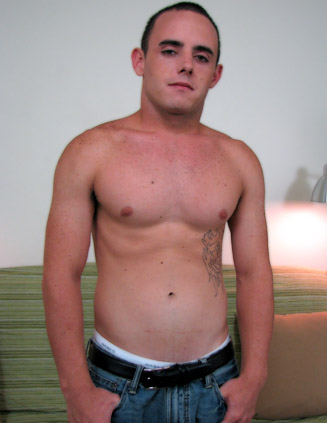 Ty was referred to us by Dr. Rimmerman of College Boy Physical, and he had an interesting reason for how he got pointed to us. When he was younger, around the age of 14 he had an experience with an older male where he got to taste a dick and cum for the first time. Ever since that experience from time to time he has experienced fantasies where he has wanted to have the taste again. Recently, he had an appointment with a doctor to talk about those feelings and see what to do about them. That's when we were referred to Broke Straight Boys as far as setting up an experience that would be perfect for what he was looking for. When I asked Ty what he would want to do with another male, he jumped right to wanting to do oral. I explained to Ty that we start everyone out with a solo shoot first just to see how they react to the camera, the lights, and the pressure of being in front of people naked. In Ty's solo he seemed very excited to get started and he wanted to jump right into it.

Ty explained that he had a girlfriend of three and half years, and the thoughts of marriage have popped into his head from time to time. But, with all the things going on lately the thoughts of messing around with another male started increasing in his head. He has only been with a guy that one time, and now he wants the chance to do it again. I explained to Ty that we kind of specialize in straight boys testing out their curiosity here on Broke Straight Boys. The first thing I had him do was start by taking off his shirt, he had on a nice black, button down shirt. Ty said that he loves to workout, when he was in high school he played a bunch of different sports. However, with so many things going on he just spends his time with his bar and bench now. Next to go was his pants, leaving him in a pair of briefs, and the one thing that caught my attention right away was his ass. As most of his bare body was exposed he had a couple tattoos on his upper body, and had some nice feet as well. He took a seat on the couch and started rubbing his dick to get it hard.

I found out that Ty loves the feeling of lube, and uses it all the time, and so I told him that he could use some. Ty had a bubble butt that could catch any gay guy's eye, and so I had him stand back up to pull down his underwear to show his bare ass to the camera. He even spanked himself one good time for the camera, and that was a sign for sure that this boy wanted to be someone's slave. Sliding his underwear off, leaving him naked he sat down to play with his growing cock, and that's when he went for the bottle of lube. Getting a handful of it, he began to jerk off and at the same time he liked to use his other hand to pinch his nipples and rub his body. As he was in his zone, stroking his cock, working up to having an orgasm, Ty was making an orgasm face. With mouth open, lots of moaning, and just wanting to be used, this boy was going to be great for future work. He started to breath a lot heavier and make more noise, before giving me a warning that he was about to shoot his load. When he came, a big puddle of cum formed in the middle of his abs. After that he was very turned on, and excited about what just happened. I told him that I loved his personality, he was cute, and I would defiantly be bringing him back for more work soon.