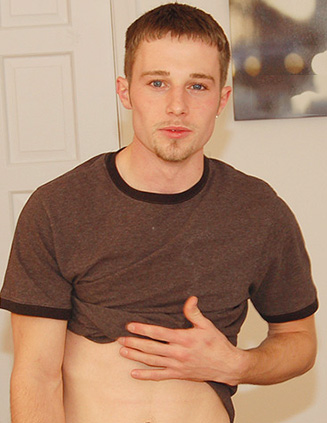 From the sunny state of California to the sunny state of Florida, Kurt flies all the way to jerk off in front of a camera. The 20-year-old has an affinity for fishing and fucking. Never at the same time, but when he's not doing one, he's definitely doing the other. It's been two days since he has cum, which means he has a huge load saved up for the screen.
Kurt gets comfortable, removing his clothes and grabbing the lube to hold his massive cock in his hands. He rubs it while his perky balls bounce on the blue suede chair. Standing up and leaning over the arm, Kurt takes it a step further in pretending he is fucking the hot girl next door.
Straight boys do know how to touch themselves. He plays with the tip and firmly grips the base all the while showing off his beautifully tight, 20-year-old ass. Kurt looks over his shoulder to see more of what's happening on the dirty little computer screen, and continues to play with himself.
After a change of scenery to the matching blue couch, Kurt establishes many positions, his final one being laying flat on his back and jerking his meat hard. He grunts with the movement, until he finally cums. He wasn't kidding, the big white load of hot cum was two days worth of sperm just for Broke Straight Boys members.