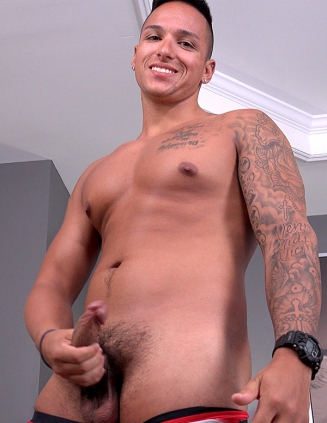 Newcomer Antonio Ferrari is a 21-year-old Venezuelan stud who comes to us with no porn experience, but plenty of practice as a part-time stripper! Antonio was adopted at a young age and is appreciative of all the opportunities he was given growing up, and he likes to give back by making people happy and helping others. He's a goal-oriented and passionate person, always eager for an adventure or new challenge, and that's one of the reasons he's here on BSB…that and his big dick!
We're excited to see it and he does a good job of keeping us waiting, stripping down nice and slow with his back toward the camera, flexing those big muscles as he drops his boxers and turns toward his eager audience!
That nice long cock dangles between his legs as he goes to lie down on the bed, his hand working that impressive prick as he yanks on it faster, growing harder and harder as he touches himself. He closes his eyes and breathes faster as he gets closer to coming, his hand gripping the sheets as he strokes out a massive load, his hot cum covering his chest as he moans in pleasure!