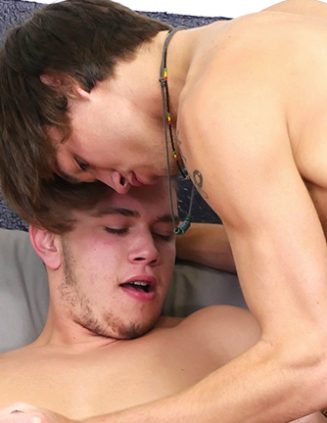 Zander Floyd is ready to get this scene started with his sexy partner Tanner Valentino, and Zander leans in for a kiss as they start to make out and run their hands all over each other! Zander reaches down for Tanner's cock and strokes it through Tanner's pants before unleashing the beast and trying to fit that whole cock in his mouth!
He sucks that thick meat, drooling as he shoves it deep down his throat and then lets Tanner have a taste of his own prick next, standing up and putting his cock in Tanner's mouth while Tanner works it with his warm lips and tongue. But of course cocks aren't the only things that can be licked and Zander gets his face between Tanner's ass and rims that tight hole, getting it wet and warmed up for his big dick!
Zander lubes up and invites Tanner on top of him, and Tanner straddles Zander and slowly sits on Zander's long bare dick, getting fucked hard and deep while he moans for more! They change to a different position and Tanner puts his ass in the air, taking Zander's cock while he gets his ass slapped and his hole stretched! They take a minute to enjoy some more oral before more raw fucking and Zander pounds the cum right out of Tanner and then pulls out to release his own load!