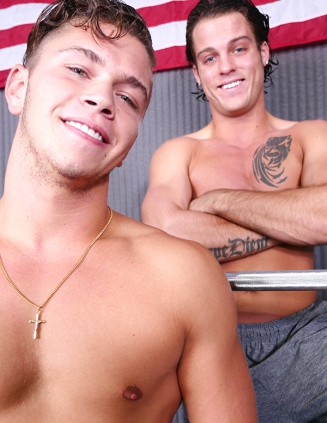 Zeno Kostas and Tanner Valentino are spotting each other during their weight lifting session and all that testosterone has got them horny and in need of some release. But soon, this innocent work out takes a sexy turn as Zeno hikes up his shorts and dangles his cock in front of Tanner's face, getting some head as Tanner sucks Zeno's cock on the bench, making him deepthroat it! Zeno drops his shorts completely and climbs on top of Tanner, sucking Tanner's fat dick and drooling all over that juicy cock as they 69, each guy getting a face full of cock!
Zeno breaks out the lube and plays with their dick before bending over and letting Tanner slide his member inside of him, nice and easy as Zeno's ass stretches around that thick prick! Tanner's bareback cock is a lot to take since Zeno's ass doesn't get fucked too often, but Zeno takes it like a pro, switching positions to ride Tanner's dick and going hard as he bounces up and down on it.
These guys use the weights to their advantage as they leverage themselves against the bar and get it on, fucking raw and hard then getting in a different position, Zeno's legs spread and ass wide open for Tanner as he takes that hard cock! As Tanner buries his dick deeper and deeper inside of Zeno, Zeno strokes his own hard cock until his cum is covering his chest! The sight of all that jizz makes Tanner shoot his load right between Zeno's ass cheeks, finishing a hot scene with a damn good creampie!