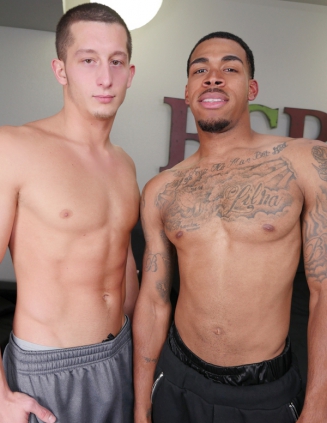 Drake Tyler has been with dudes before, so he's a little more experienced than his partner Brice Jones, who has barely done an oral scene…but as they say, practice makes perfect! Brice won't take the bait to have a cock up his ass this scene, but we promises to do something else instead, and they get started with some cock-sucking. Drake gets down on his knees and sucks Brice's dick, massaging his balls gently as he tugs on that thick cock with his mouth, they lose their clothes at some point then end up on the bed, Drake struggling to deepthroat Brice's monster cock.
He gives his mouth a break and works Brice's dick with his hands, then mouth again until he's hard and ready to fuck…and Drake takes his place at the end of the bed, ass up and ready to receive Brice's prick. Brice takes it slow, entering Drake cautiously, unsure of the new experience, but when he feels that tight grip on his cock he can't help but up the tempo and start fucking like he means it!
He makes Drake's ass bounce as he rams into him, and Drake's face clenches in pain as he relaxes himself to make it easier to take that dick. These two studs try a couple more positions, but Drake's ass can't take much more so Brice pulls out and strokes one out right above Drake's ass, then he cums next…we can bet he's not going to be able to sit down for a couple days!