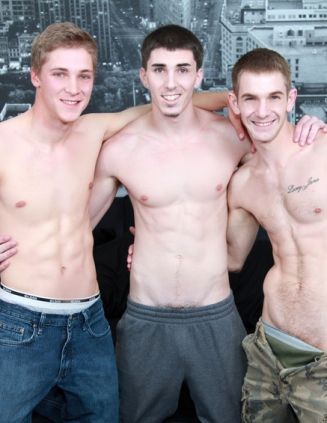 We've got a treat for you!! Ayden, Dakota and Damien are starring in a very hot and steamy threesome for your own viewing pleasure! These boys don't talk much but get right to the good stuff, Ayden and Damien kick things off with some kisses, making out while Dakota gets on his knees and gives both those studs head, taking as much of their cocks into his mouth as he can and gagging on them as he gives that oral!
But that was just a warm up…these three young dudes climb onto the bed and they all get a taste of cock, with Damien sucking on Ayden's wang while Dakota sucks on his, and then they flip, everyone getting their appetite for juicy cock satisfied in one swing! If you thought their cock-sucking chain was hot, wait until they start fucking! Damien bends over, already resigned to the fact that he's going to be the bottom, and Dakota sticks him with his hard cock! But he doesn't get more than a couple pumps in before Ayden comes up behind him and shoves his own thick prick into Dakota's ass.
Dakota's the man in the middle, and as he fucks Damien he gets his own ass pounded by Ayden! These boys want to get some more personal attention, though, and Damien is the one to deliver! He gives Ayden head while getting his ass filled by Dakota, and then they switch and Damien gets a mouth full of Dakota's cock while getting an ass full of Ayden's! There's so much cock and ass for the taking that these guys can't help but shoot huge loads, and Damien serves as the cumslut for these naughty boys!