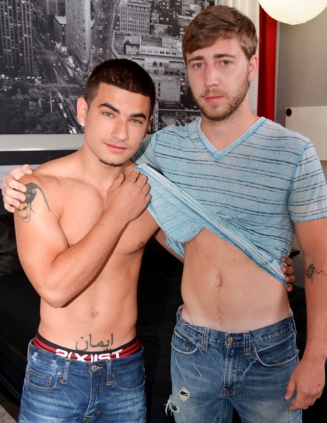 Brandon Beal catches Vadim Black in the middle of a workout, and he decides to give this hottie a different kind of workout! They move into the bedroom and the clothes come off, they make out, swapping spit until Vadim stands up and puts his dick in Brandon's face, making him suck that cock as he thrusts in and out of his warm mouth.
But why should just one of them get their dick sucked when they both could be getting some oral? There's no better way to solve that problem than with some 69ing action as they both suck and get sucked until they're hard and ready to fuck! Vadim bends over and takes Brandon's thick cock, moaning as he slides his prick in and out of his tight little ass and Vadim begs for more, this boy wants to get fucked hard, fast, and deep!
Brandon flips Vadim onto his back and stands above him, placing his hand on his throat as he pounds him, his ass jiggles as he rams his cock into Vadim. Brandon pulls out and shoots his load onto Vadim's toned abs, and while Vadim strokes one out Brandon busts a nut…again! That's a whole lot of cum for one scene!