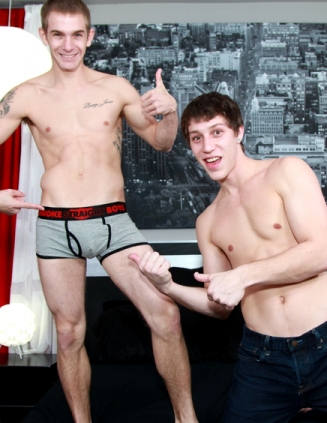 Glad to see Dakota Ford is back in the BSB fold after having his sweet ass busted by Kaden. He shares today's stage with Paul Canon, who for some reason is eating at his palms. There is dead skin that needs to be removed. Dakota is slightly freaked out that he'll have to kiss a mouth that just swallowed skin. Paul brushes this aside, adding he doesn't believe anyone who says he's never tasted his own man milk. Dakota starts to argue his jizz has never passed his lips, but quickly backtracks. There is video evidence suggesting otherwise! LOL! "It was an awkward taste," Dakota says to the cameraman when asked how his cum tasted. "Mine is sweet," Paul maintains.
The cameraman reminds that pineapple is supposed to make cum taste like the nectar of the gods. There's also some conversation if semen tastes differently according to race. No one has a well versed answer for such a provocative question, so let's leave the query alone. Dakota is asked about Paul. He likes him, adding he has an ironic sense of humor. "I'm a sarcastic asshole," Paul confesses. Dakota adds Paul's smile makes it difficult to read some of his statements. One of the reasons why his fan club is so rabid! LOL!
The boys strip, and look who has finally earned some BSB underwear. "It took more than I expected," Dakota says. Paul gets out of his pants, and after the "get to it signal" from the cameraman, he grabs Dakota and places a wet kiss on the boy's lips. Dakota returns the passion. He then takes a seat, and Paul hits his knees. The veteran slurps at Dakota's pole, and the newbie moans. Instantly. Paul's warm mouth gets that hefty rod plumped up. "Oh, you're sucking that dick so good," Dakota moans. Paul takes the entire thing down his throat with ease. Does he even have a gag reflex?
Dakota gets on the floor, and opens his mouth. He licks Paul's meat like an ice cream cone. "Yeah, suck that dick," Paul commands. From the start Dakota has effort tears. "That's a lot of dick, man," Dakota says. "Not too bad for a newbie," Paul observes. Time for some ass busting. Dakota gets on the bed, and Paul slathers lube on his pickle. Dakota cries out the moment Paul enters his hole. Even tries to keep him from going balls deep. "God, you dick is so big," Dakota whimpers. "It's so deep. It's so deep."
Paul wants some of Dakota's sausage deep in his ass. Dakota goes to the chair, and Paul puts his booty over the man missile. At first Paul goes up and down slow, but the pace picks up. So does his cursing. That's dong is a hard ride. Dakota offers a reach around to make things feel better. "Take it," Dakota commands. Paul's hole is stretched beyond belief, but he takes that monster like he needs his ass filled.
Paul gets on the bed, and puts his tasty thighs in the air. "You ready for this," Dakota asks. Paul doesn't answer, but Dakota enters anyway. The pounding is balls deep, making both lads curse and moan. Paul takes his busting like a man. "Oh shit," he cries. "It's so deep." Just the way fucking is supposed to be. Deep and long. LOL! Paul eventually busts a nut that shoots up in the air, landing near his ear! Dakota pulls out and jerks his cum out. His man milk fills up Paul's belly button. Paul feels "cummy" and a little "shitty." Dakota tastes some of his cum and it gets a bland on the taste meter. Which is fine, as long as he keeps eating it. LOL!