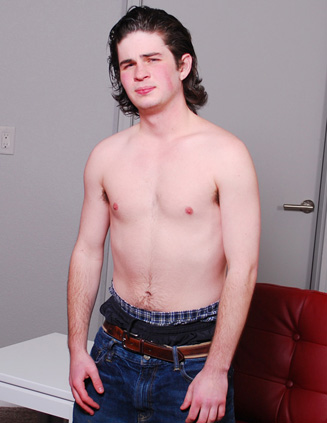 Who says it doesn't pay to advertise? We put an ad out for newbie BSB material and look who replied. Brian is a slow talking dude, the type of cool kid you wanted to talk to back in the day. Being cool is nice, but sometime has a price.

"I'm actually just recovering as an addict previously for doing drugs," Brian explains. "So now I'm trying to be a yoga teacher."

He's trying to get his life back in order and seems to have found some structure with yoga.

"I work out now," Brian explains. "Just do yoga. It's really just a mind body connection. Gives you good feeling without having to do drugs."

When it comes to the ladies, the black haired beauty has few guidelines.

"The hottest ones," he laughs. Blondes. Brunettes. I like them all. I'm more of an ass man. Any chick that is hot."

"If you're hot, but you're a bitch, I'm not with ya," he says.

Brian's nervousness is palpable. He tells when he first jerked off (he was 11). But now doesn't need to use the skill.

"I don't jerk off that much because I get all the women I need whenever I need."

Someone thinks highly of himself! LOL!

As he's talking, he takes off his clothes. When naked he notes his dick has to be 8 to 9 inches. We'll see. LOL! It's tough for the cutie to get hard so he looks at porn on his phone. That seems to do the trick because his johnson does expand nicely. Do you think it's 8 to 9 inches?

Brian does have a nice body. Not overly muscled or too lean. Just right. When he stands up he uses two hands on his meat. When he sits back down there is a closeup of his sausage. The piss slit is nice and wide. Needs a mouth on it. :-)

His nuts are heavy and probably would stretch out the most experienced mouth. The stroking picks up, his toes dig into the carpet. The sound of his balls slapping against his thighs echo in the studio.

He needs to go back to his phone. Dude was more nervous than he thought. LOL! He makes a pained face as he stares at the phone image. His breathing picks up and eventually Brian unloads juice that lands right above his navel.

We get peace and thumbs up signs, with these parting words:

"It felt pretty good, man. I mean I'm just chilling, man. It was a little weird because I don't like to lower myself to this type of shit. But for the time being I need the money, so I really don't give a fuck what any of you think. So I don't care. It's all good."