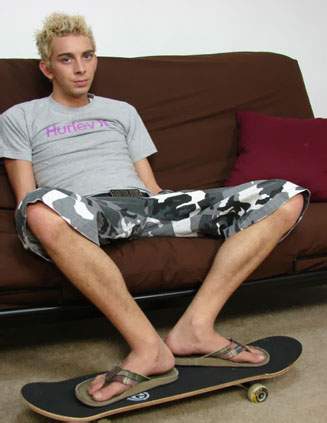 Jesse was out skateboarding and I found him out and about at the park. He is 20 years old, straight, and currently doesn't have a girlfriend because they take money. I explained to him that he was going to do a test interview, and then if he does well we would have him come back for some more work. Starting to get undressed he stood up and peeled off his shirt. Right away I had noticed that Jesse had a nice tan, smooth skin, and was very flat in the chest and stomach. He took off his shorts to reveal that he was wearing a pair of white briefs, and he returned to sitting on the couch to begin playing with himself. He gently would rub his hand over his cock and I was beginning to see a bulge in his briefs. Jesse stripped the briefs off to show that he had a hard cock, and said that when he is fully hard he is right at 8 inches. I moved in behind him so that I could get to see what his ass looked like. With his hands I asked him to pull his cheeks apart and then to behind over, he didn't do it for long. He laughed and then took a seat on the couch.

I put a porn on the TV for Jesse to watch and that seemed to get all the attention. He grabbed the lube bottle and began to jerk his cock off at a very steady pace for me. After a little bit, Jesse changed positions and laid back on the couch. While he was stroking his cock he would wiggle and move his feet around for the camera. I told Jesse to play with his ass and I would pay him an extra $50 in the shoot. He looked at me and he didn't really know what to do, because he had no idea what I meant. I had him move his hand a little closer to his hole and he started to apply some pressure to it. Jesse would fill his balls and would squeeze them a little bit.

Stroking the cock, Jesse started to go faster and concentrated on head of his cock for the longest time. His color in his face was turning a bright red and he was breathing a lot faster. At this point I know that he was getting close to cumming and it would only be a little while longer. I told him that he could go ahead and blow his load on his stomach and as soon as I gave the go, he started to let out a couple of moans. Binding forward he shot his load on his lower stomach and in his hand. His load had a very thick, white color to it and it was a good size. I know that Jesse is in need of a lot of money fast, so I hope to have him come back over the next couple of weeks for some more work, I know he hopes to fuck a girl on camera.