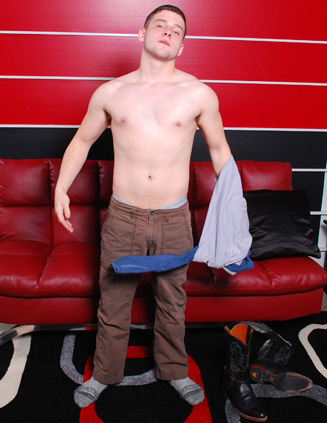 Newbie Lucas Weston doesn't want to be in the BSB studio, and is freaked out by everything gay.

The boy from Tennessee is a dutiful son. He lives with his Dad and unfortunately the elder Weston lost his job. Lucasneeds money to assist with the rent.

"It's going pretty bad," is the first sentence Lucas utters in this vid.

When it comes to anything hinting at gay, Lucas is disgusted. He's got nothing against jacking off but a dude in the room, while he's doing it, is ten steps past wrong.

"I just don't like that a guy is going to be in the room with me. It's kind of nasty to me."

Lucas is certain he knows no one who might be L.G.B.T.Q.I.A; however, he's been hit on by the occasional gay male and was weirded out by the experience.

"The thought of me being with a guy just disgusted me," he says.

Despite all of this revulsion, he's a polite boy. Takes orders well, especially when asked to remove clothes. LOL! While describing his stroking history, he strips. His body isn't defined, but few would kick out him out of bed. Lucas does have thick thighs and that is a promising start.

Soon he applies the lube and starts stroking. A compliment from the cameraman about his dick freaks him out, so Lucas starts describing a fantasy. It involves his friend's mother and turning her into his "little slut." The story works because his tool plumps. And those juicy nuts jangle as he feels himself up.

When asked to show his butt hole, Lucas immediately balks.Yet, after some monetary negotiations, he pulls those legs up. More has to be paid for him to finger himself, but don't worry. Lucas gets the amount he originally wanted for a view of his ass. He slips a finger in.

"It feels so weird," Lucas insists. "I don't like it."

His pole tells a different story, but let's handle that later! LOL

Lucas removes the digit and pays all the attention to his jerking. The Tennessean is a loud breather and keeps peeking at the camera.

"It's hard with you watching me," Lucas whines. "I've never jacked off in front of anyone before."

The cameraman suggests Lucasthink on his cougar fantasy and that does the trick. He eventually closes his eyes and the hand motion picks up speed. He moans "fuck" and busts a nut that covers his shaft in nectar.

When asked to eat his own cum, Lucas demands $500. The cameraman scoffs at that price and offers $100. Lucas takes the deal, scoops some jizz up, and gobbles it down.

"This isterrible,"Lucas complains, but don't pay any attention. The cock tease licks his fingers as he grumbles. LOL!

He doesn't want to return, but is willing to consider the possibility. What do you think? Should Lucas come back?