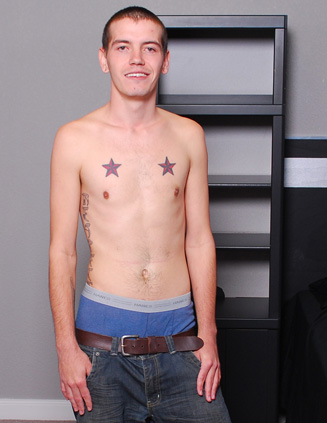 Newbie Monday, baby!!! Today's model is Mike, and unfortunately he's been looking for work for about a year and half. He's kept himself above water with a number of odd jobs, but those can only get you so far. So he's here with us to earn some spending cash.

He's never jerked in front of anyone, even his girlfriend. There's been no lady in his life for about four months; his self pleasure schedule is three times a week. The skinny lad takes off his shirt. There are two star tats above each nipple.

The Cali boy sheds pants and underwear. He's never measured his penis, which is surprising. Soft it looks like it might be large! LOL! There's no standard fantasy when he strokes. After awhile, the blood goes where it should be. His extra-large johnson would make our BSB's resident bottoms squeal in painful delight. :-)

Mike is non-dramatic. Shows his ass when asked, and rubs that hole. His attention, however, stays focused on his hose.

When he's close to nutting, Mike's mouth opens a few times. Wouldn't he look cute with that mouth filled with something? His orgasm is quiet and copious. The first spurt lands on his hip and the bed. The remaining juice lands on his stomach.

Mike's sexy smile ends a rather impressive solo vid. Who should initiate Mr. Newbie into the joys of man sex?