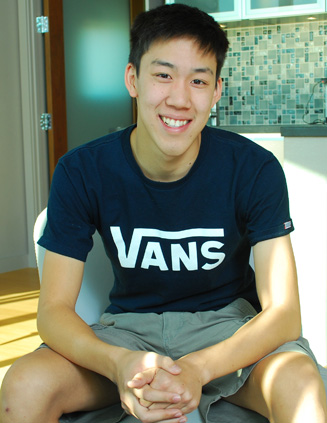 Say hello to California boy Alex Case. The newbie is here for the reasons we have all come to love: he needs cash for bills and college.

Alex is an impressionable skinny scamp. He started jacking off after watching a movie where a guy was stroking.Alex followed suit, it felt good, and the newbie has been doing it ever since. For some reason he prefers night for his jerking time :-)

Your heart will break when Alex confesses he has no sex life. How can this cutie not be getting consistent loving? The world is unjust. Rather certain a number of you in the BSB land would love to help him out. LOL

He loves his abs, but his booty is Alex's prized possession. Nice, round, and perky. Wonder what it feels like? :-)

He sits back down and starts stroking. He moans a little, getting into the self pleasure. When he lies down on the couch (do you miss our black sofa?), he closes his eyes and bites his lips. Somebody is horny.

Alex looks all scrumptious on the couch, as the sunlight dabbles the side of his face. He alternates between slow and fast stroking, making sure that red head gets touched occasionally.

Don't faint when he shows his hairless hole.Too bad he didn't finger it. Bet he would like the feeling :-) Alex enjoys stroking and tugging his pud. His balls would fit easily into a warm, and receptive, mouth.

He sits back up, increasing the jerking the pace.

"Oh, fuck. I'm going to to cum," Alex cries

When he nuts, cum coats that smooth belly. Alex even he plays with some of the nectar. Hopefully this means he might consider juice swallowing. :-)

Should Alex come back? Who should guide him through the pleasures of man sex?