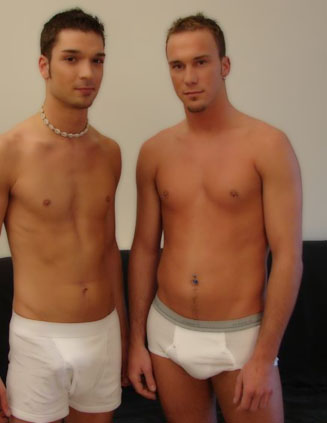 Ross is 21 and he goes to school for philosophy and he brought his friend Erik, who is 19, and they go to school together. They found out about this through a friend and so they wanted to give it a shot because Erik needs to get his car out of the shop. I explained to them that they were just going to jerk off next to each other and there wouldn't be any touching between the two of them. I had them start by undressing and going from there, both guys pulled off their shirts to show that they had smooth chests. Both had nice tans and some muscle tone in their upper bodies. Moving on they took off their pants and while they did that they were really worried that they were going to have to touch each other. Dropping the briefs to the floor they, they showed their packages to the camera before sitting down on the couch. Both guys had really nice frat type looking body and I think they will be a lot of fun to watch get off. When they did I noticed that they both had some piercings on their dicks. Ross said that he was dared to do it.

Both guys sat there on the couch jerking off, not really getting into it. I explained that it would be hot, if they wanted to try out for our casting if they would suck dick. They didn't like the idea but then they started to bargain with the pay. I agreed to pay them both $600 to try sucking dick for the first time. Erik leaned over and took his buddies cock in his mouth and started to suck him off. After Erik got started, Ross made the comment that it kind of felt good and he placed his hand on the back of Erik's head. Pushing down with his hand Ross made Erik go down deeper. After a short time I had them switch and I had Ross give Erik had head. He bent down and slowly took his penis in his mouth and his wet lips began to lower over the shaft of the penis as well. Both guys enjoyed getting head by the other one. It made me think that they might try doing this on the side for fun.

I told them that it would be fun to see them fuck for the first time, and they both started having a cow saying that they weren't faggots. Erik said that this was a far as he was going to go, but I throughout a number $1000 each for doing it. For a brief second they thought about it and they wanted more money and agreed with $1250. Erik laid on his back and Ross got in behind him and started to push his way into his ass. Erik was getting pissed off that he was forcing his way in so fast, but when he did get in the speed of the fucking started to go faster. Erik gave the green light to Ross that he could fuck him faster. Both guys looked really hot as they started to fuck and it didn't take long with the fucking going on for Erik to bust his load all over his stomach. There was no way that Ross wanted to stop fucking him. I told Ross that I wanted to get a cum shot and he kept going. Ross was going to town and didn't really want to stop. Erik asked Ross if he was getting close because it was starting to hurt. He also asked if he liked it, and I heard a quiet yes. Ross pulled out and threw the condom on the floor so he could spray his load. He shot his load on Erik's stomach and was out of breath from the fucking. They wanted their money right afterward and I mean right after. Plus, they brought up the fact that they wanted a girl next time that they came in.