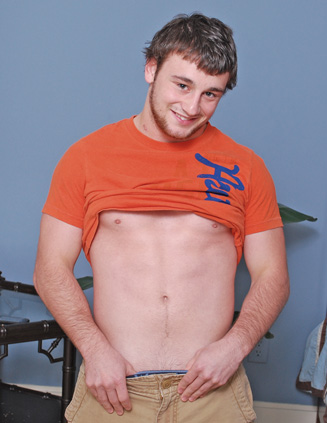 There are many reasons to lust after newbie Scott Harbor. He's another southern boy (Gen. Lee would be pleased). Is studying medicine in school. A beard and body make him a perfect partner to Jeremiah Johnson (smile). Finally, when asked what he plans on doing with his payment for this solo, Scott offers the most original answer in BSB history!

"Maybe start a business on my own or maybe pay somebody to come fuck the shit out of me."

A horny guy who wants to be his own boss? Scott is tailor made for the BSB studio!

The stocky performer gets naked. He's a little tease because he takes his time, while looking at the camera. He jerks 3 to 4 times a day, and gets booty on the side.

"I have a fuck buddy. The best way to go."

Horny, business inclined, and smart too!

After he shows off parts of his body, Scott sits on the bed and jerks his meat. The vixen (!) plays to the camera, looking at us and biting his lower lip. Little grunts and moans slip from his mouth. When he opens his mouth wide, it's easy to imagine it filled with cock.

The little stud is getting off from looking at us and fucking his hand. He gets on his hands and knees, that fleshy ass pointed to the camera.

Scott spreads his cheeks. Want to bet he's been in this position before? LOL! Those moans get louder. His cheeks are meant to be parted with big ol' dick!

Scott gets on his back, looking at us some more. Play to the crowd, baby! We get an overhead shot of those furry thick thighs. He fondles his abs and nipples without missing a stroke.

His face turns red as he gets close. Those sexy legs contract as he nuts, the juice sliming his upper stomach.

"That's a big load, Scott," the cameraman says.

"Thank you. It was well worth it," Jeremiah Johnson's fuck buddy replies (grin).

This boy is ready to be fucked. Do you want to see it happen? Who should have the honor?