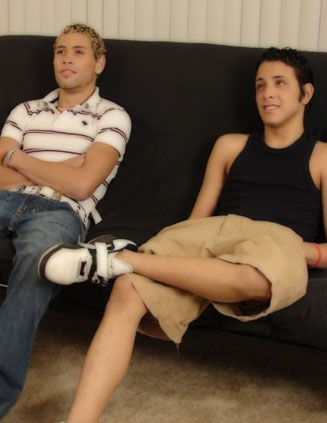 Glacius is back, because I told him that solo tape that I had he just did for me got ruined and I
needed him to do another one. Of course, I lied to get him back in here, and I had another model
that was going to be stopping by during the shoot. Glacius said that he had saved his last check he
had made from us, and was looking forward to making some more money that he would eventually
spend on his girlfriend. I had him start to get undressed, and he did so removing his shirt to show a
smooth, flat, tanned chest. Then, his pants hit the floor, and same with the whitie-tightie's that he
had on. Sitting back Glacius started to play with himself by pulling on his dick to get turned on.

The other model arrived to the studio and when Ricardo showed up it became very awkward
because I didn't know that they would know each other. I guess that their girlfriends are friends and
so they end up double dating and hanging out as couples. Both guys didn't really get it when I had
explained that I was pressed for time today and so they might just have to jerk off next to another
guy. Ricardo was a little hesitant, so I offered for them to make an extra $200 for doing the shoot
together. Ricardo stood up and got undressed, before sitting back down on the couch.

I offered for them to make some extra money to have them sit next to each other. I gave them an
extra $100. I told them that it would be hot to see them kiss, and they said that their girlfriends
have talked about seeing them mess around. They moved in for a quick peck on the lips, and then
they attempted to kiss a little more, before they felt to uncomfortable. They kept jerking off and
Glacius had a nice size dick that was getting bigger. I explained to them that they were making extra
money here, and that I wanted them to jerk each other off. Glacius was a little more up for it than
Ricardo, but they reached over and took the other one's dick in their hand. Doing this for a few
moments they seemed to be doing fine at touching each other. For an extra $100 to give head,
Ricardo reached over and took a hold of Glacius's dick placing it in his mouth. Moving his mouth up
and down on Glacius's dick, Ricardo was doing a good job. Ricardo was actually putting most of it in
his mouth and doing a good job at doing what was needed to keep Glacius hard.

The time came for the guys to switch and Glacius's took Ricardo's dick in his mouth and began to
suck it. I noticed that Ricardo got hard as soon as he started to get head, and he played with
Glacius's dick as he got head. After a while of them giving head, I offered them some more money
to keep the shoot going, I wanted to see the two of them fuck. Both guys were down for doing the
shoot because they both really needed the money. Ricardo just lost his job, so there was on way that
he was going to turn the opportunity down. Ricardo moved into position and laid on his back. Glacius
put a condom on and then moved in behind Ricardo. Placing his dick against Ricardo's hold he started
to force his way into the tight little space that had never been fucked. Glacius actually started to fuck
Ricardo at a pretty good speed and they looked hot fucking for the first time. Glacius felt that he was
going to cum right away and he shot his load all over Ricardo's leg. Ricardo on the other hand
needed a little more of the fucking if he was going to cum, so Glacius put on another condom and
started to fuck Ricardo again. He pulled out and began playing with Ricardo's balls. That is when
Ricardo shot his load all over his chest and stomach. His load was runny, and actually gave him more
of a shower. Both guys had a good shoot, and liked the idea of bring their girlfriends in with them to
do a shoot next time. We will have to see what we can work out for that shoot. What I can so though
we got to see a guy get fucked for his first time today on camera and that is always a good thing.