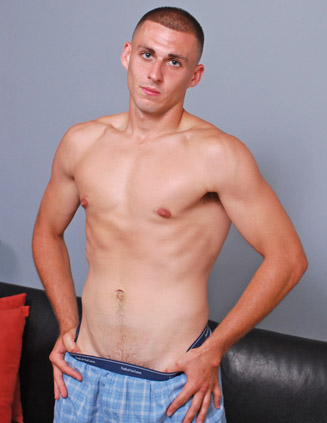 Just another newbie Monday. Oliver Bowen sits on our couch for a solo. When the filming starts,
two things stand out about this slab of grade A beef. He's gotkiller calves and is built like a
mountain.

"I stay active," Oliver says to the cameraman. "I'm into triathlons, long distance running, scuba
diving, and biking. Anything that keeps me fit."

The 22 year old is also musician, playing bongos and keyboards for a few bands.

When he takes off his shirt, it's hard not to stare at Oliver's nipples. They are the size of quarters
and require chewing.

Oliver quickly gets to jerking. He lacks any of the standard newbie nerves. Plays to the camera
while he fondles his meat. Has an impressive jerking technique, alternating between long and short
stroking.

When he stands up, there is a peek of that round muscular ass. Everything about Oliver is muscular
and round. From his feet, to those hairy thick thighs, to his arms. Who wouldn't want to service
this dude? And his eyes? Hypnotic. Willing to bet he can make anyone debase himself with just a
look.

Oliver gets back on the couch, with a little smirk to the audience. Sexy stud knows he has our
attention! He's into this jerk off session. Look at the sheen of perspiration on his face.

Oliver knows his body because when he says he's ready to cum, he grandly does. His load shoots
five inches in the air, and when gravity takes over all that man goo blanketsenter the member

Oliver? Please, sir? We want some more!!!!